Launching an App for Your Company
How will you reach your stakeholders and potential investors as they migrate from the desktop computer to virtual offices and mobile devices?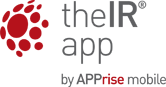 Crystal Research Associates has partnered with APPrise Mobile to offer a turn-key investor relations app that will allow a company to optimize its corporate and IR content for iPhones, iPads, and Android mobile devices. The app is created by investor relations and IT professionals (not just web developers) with decades of IR consulting experience who understand how information needs to be disseminated, how content is being consumed, and what investors expect.
Why Mobile?
It is no secret that mobile is one of the fastest-growing digital platforms, with over 91% of Americans owning a cell phone and 35% also owning a tablet as of September 2013. Worldwide, nearly 2.5 billion mobile devices are expected to be sold in 2014. The Pew Research Center recently found that over a third of these users now go online almost exclusively from their mobile devices versus from desktop or laptop computers.
With the growth of mobile has come the growth of apps: Flurry Analytics reports that 80% of time on smartphones and tablets is spent inside an app, and the Apple iTunes store alone reportedly sold over $10 billion in apps during 2013. A recent survey of 200 institutional investors conducted by theIRapp™ found that 83% of respondents rely on mobile when it comes to work.
As a result, the way companies interact with their stakeholders and consumers is changing. People have come to expect businesses to have mobile-optimized websites and proprietary apps. This is a huge benefit for companies looking to increase their visibility, as through mobile devices, businesses can reach consumers in any location, virtually 24/7—whether they are at home, in the office, or in transit—creating new opportunities for engagement and information delivery.
Contact us to start the process of launching an app for your company using the theIRapp™ platform.
To see a demonstration of this app platform, please use the links below to download and view our own app built with APPrise Mobile.