Investment Highlights for

Aeterna Zentaris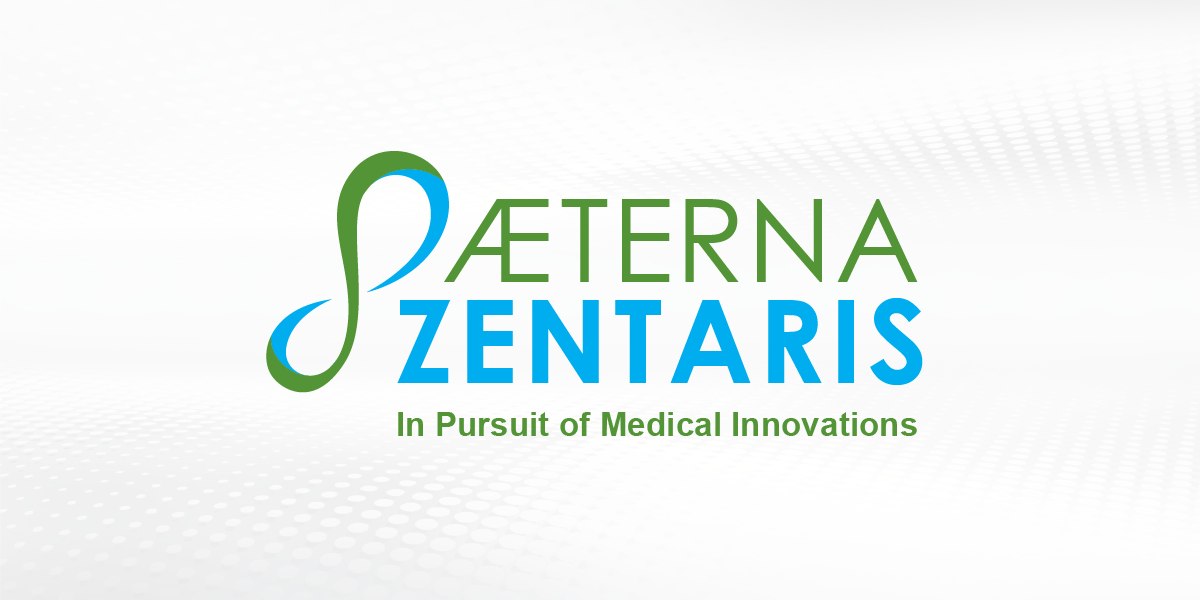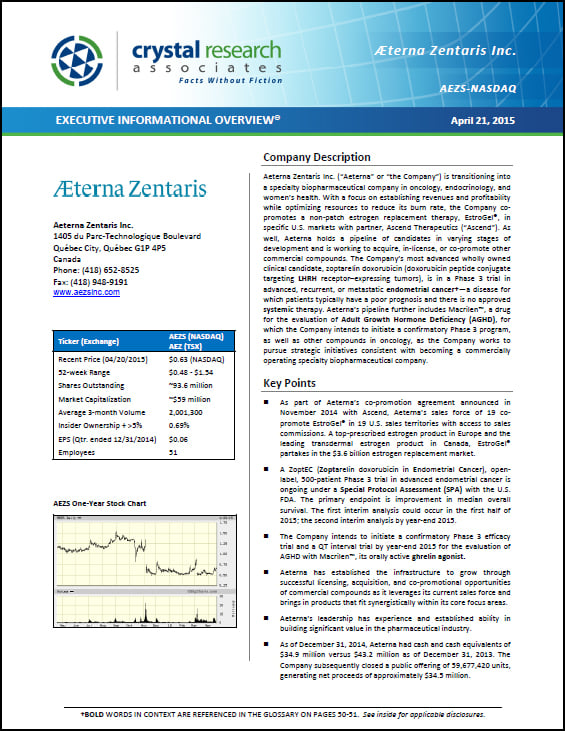 Six Reasons to Look at Aeterna Zentaris
(AEZS-NASDAQ; AEZ-TSX)
Aeterna is a specialty biopharmaceutical company in oncology and endocrinology, focused on establishing revenues and profitability while optimizing resources and reducing burn rate. The Company is working to achieve a commercial presence and growth via licensing and acquisition opportunities, and currently co-promotes two marketed products: (1) Saizen®, a growth hormone deficiency therapy, and (2) APIFINY®, a non-PSA blood test for use in evaluating the risk of prostate cancer. Aeterna also holds a pipeline of candidates in varying stages of development, including Zoptrex™ (doxorubicin peptide conjugate), a Phase 3 therapy for advanced, recurrent, or metastatic endometrial cancer; and Macrilen™ (macimorelin), an orally available, Phase 3, peptidomimetic ghrelin receptor agonist that stimulates the secretion of growth hormone and may diagnose AGHD. Other indications for zoptarelin doxorubicin may include tumors expressing the LHRH receptor, such as prostate cancer, bladder cancer, breast cancer, or ovarian cancer.

Aeterna has promotion services agreements with Merck's EMD Serono, Inc. for Saizen® [somatropin (rDNA origin) for injection] and with Armune BioScience, Inc. for APIFINY®—enabling Aeterna to transition beyond the development stage and into a commercial entity. Aeterna's contractual sales force promotes Saizen® in 21 U.S. sales territories on a commission basis and APIFINY® across the entire U.S. exclusively (also on a commission basis).

Zoptrex™ (zoptarelin doxorubicin) is a new concept in oncology. This hybrid molecule, which is delivered intravenously, is composed of a synthetic peptide carrier and doxorubicin, which directs the chemotherapy agent specifically to LHRH-receptor-expressing tumors. There is an indication from Phase 2 studies that the compound results in a targeted treatment with less damage to healthy tissue and fewer side effects than doxorubicin, which does not represent any form of targeted therapy.

As an ongoing Phase 3 trial for endometrial cancer, the ZoptEC (zoptarelin doxorubicin in endometrial cancer) study has enrolled 500 patients at over 120 sites in North America, Europe, and Israel. The Company is working under a Special Protocol Assessment (SPA) with UK-based Ergomed plc where the two entities have a cost-sharing agreement in place. The trial is expected to be completed by the end of 2016, followed by an NDA submission to the FDA in 2017. If approved, Zoptrex™ could become the first FDA-approved therapy for treating recurrent endometrial cancer.

The Company is also near to the completion of a confirmatory Phase 3 clinical study to demonstrate the efficacy of Macrilen™ for use in evaluating AGHD. This decision followed positive meetings with the U.S. FDA and the European Medicines Agency (EMA) regarding Macrilen™. The Phase 3 trial completed enrollment in October 2016 with patients who have a medical history documenting risk factors for AGHD (including low-, medium-, and high-risk patients). Aeterna believes it will likely release top-line results in early 2017. Submission of the NDA for Macrilen™ is anticipated in the first half of 2017, pending trial results.

Aeterna has assembled a strong leadership team with experience and demonstrated ability in building significant value in the pharmaceutical industry. The Company is listed on both the NASDAQ and the TSX exchanges. As of September 30, 2016, Aeterna held cash and cash equivalents of approximately $21.1 million and subsequently raised $7.56 million in gross proceeds from a registered direct offering and an additional $1.7 million through use of an ATM.
Unlocking Visibility: Trusted Research by Wall Street Veterans