Suite of Strategic Products
Crystal Research Associates provides independent, investor-based research and corporate communications products that exemplify the unique characteristics of our clients, telling their stories in such a way that investors, journalists, and others in the mainstream media can clearly understand a company and feel confident that it is being covered without bias. Through implementing our innovative approach, we have gained the interest of the investment community.
Our coverage typically begins with a signature report product, the Executive Informational Overview® (EIO), which can be followed by Quarterly Updates, periodic Company Briefs, slide presentations, social media updates, and dissemination of interviews or other audio/video clips, and can be further complemented with research articles and industry updates. All of these products are freely available to institutions and individuals who desire to use independent research to make informed investment decisions.
In addition to our established written offerings below, our team is equipped to customize services according to a company's strategic needs. This has previously included work such as crafting business, product, and market overview text for Annual Reports; creating or reviewing investor presentations for upcoming conferences; assisting in the development of an online and/or mobile presence for your company; and so on. Please feel free to contact us to inquire about specific needs.
Executive Informational Overview® (EIO)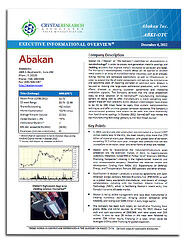 Each 30-60 page EIO is a comprehensive and detailed analysis of a public or privately held corporation researched and prepared by a veteran team of top-ranked Wall Street sell-side analysts. The EIO presents a company's story in a way that sparks the interest of the investment community by clearly outlining the advantages, opportunities, and risks represented by the covered firm. It is not a conventional analyst's research report, but rather a factual summary of a corporation based on all relevant public information and free of buy/sell ratings. The EIO model is sufficiently flexible and responsive to reflect and highlight the unique characteristics, qualities, and technologies of each client. It typically includes the following elements found to be important in an appraisal of a company:
Company Snapshot: A brief summary of the company and its relationship to the industry or industries in which it participates. This section serves as an introduction to potential investors and other interested parties, enabling them to gain a concise working knowledge of the firm.

Recent Financial Data: In order to highlight the financial performance of the company, each EIO features a one-year price/volume performance chart, as well as other applicable statistics and potentially peer/index comparisons if appropriate.

Growth Strategy and Milestones: An examination of the company's stated plan of action for growth, and the strategies employed in achieving its goals, including how far it has come and where it expects to go within a stated timeframe.

Intellectual Property: This area details the intellectual product portfolio, including any patents awarded or pending.

Leadership: Each report features key management and board member biographies, including any and all specific company and industry experience, relevant trade group and organization affiliations, awards, and achievements.

The Core Story: The heart of the report features additional details on the company's key products, the markets in which these products compete, detailed descriptions of current market trends, and any relevant testing or development factors. This section also includes appropriate graphical aids as necessary to effectively communicate the company's products and technology.

Risks: Included in accordance with Regulation FD and other standards for providing information to the financial community in order to clearly and objectively outline the risks involved with investing in the subject firm.

Glossary: Definitions and elaborations on any technical or specialized terminology appearing in the EIO.
Quarterly Updates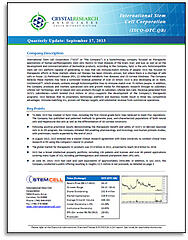 Crystal Research Associates provides its clients with a minimum of four updates of 12-20 pages each following the release of the base EIO®. These updates summarize performance during the previous quarter and highlight recent key accomplishments. Similar in structure to an EIO®, Quarterly Updates include the following features:
Important announcements

Updated financial data

Key points for investors to consider

Important quarterly developments/news

Company focus
Company Briefs
These are brief, periodic updates to keep investors apprised of significant news items and milestones that occur in between publishing the Quarterly Updates. These reports are typically 3-5 pages and reach all the same distribution avenues of the EIO in order to keep a steady stream of information on a company circulating to interested parties. Company Briefs take the form of PDFs for downloading or printing from a subscription site such as Bloomberg as well as are distributed as online articles through social media for easier online reading and news feed displays.
Slide Presentations
Each EIO is accompanied by a PowerPoint presentation of 10-12 slides that is distributed through SlideShare, which is among the world's most visited websites and is the largest community for sharing presentations with over 60 million monthly visitors. This presentation summarizes the key points of a company's business, product development, and market in a form designed to inform audiences and encourage them to seek out further information on the company from the EIO.