Crystal Research Associates has released a new Executive Informational Overview (EIO) on XBiotech Inc. (XBIT-NASDAQ), a company engaged in discovering, developing, and translating natural human immunity into novel therapeutic antibody products. The 60-page EIO, which details XBiotech's business, technology and product development, manufacturing expertise, market opportunities, competition, and more, is available for download below.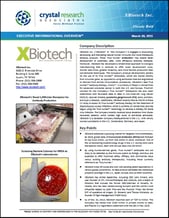 About XBiotech
XBiotech is creating True Human™ antibodies that may enable faster development of potentially safer, more efficacious antibody therapies. The Company has developed a streamlined approach to biologics manufacturing that is believed to offer lower development costs, shorter lead times, greater reliability, and more flexible production than conventional techniques. The Company's product development centers on the use of its True Human™ antibodies, which are cloned directly from a human gene, as opposed to using antibodies that are engineered or derived from animal immunization procedures. XBiotech's lead True Human™ antibody therapy, Xilonix™, is currently in Phase III clinical trials for advanced colorectal cancer in both the U.S. and Europe. Proof-of-concept for the Company's True Human™ therapeutic has also been established with favorable data to date in non-small-cell lung cancer (NSCLC), vascular disease, pyoderma gangrenosum (PG), acne, psoriasis, and type 2 diabetes.
Additionally, XBiotech has launched a Phase I/II study to assess its True Human™ antibody therapy for the treatment of Staphylococcus aureus infections and has begun using the True Human™ technology to develop a therapy for Ebola virus infection. The Company recently received blood donations from Ebola-recovered patients, which contain high levels of anti-Ebola antibodies. XBiotech is a Canadian company headquartered in the U.S., with wholly owned subsidiaries in the U.S., Switzerland, Germany, and Japan.
Key Points from the Executive Informational Overview
XBiotech addresses a growing market for targeted immunotherapies. By 2019, global sales of monoclonal antibodies (MAbs) are forecast to top $122 billion, up from $63 billion in 2013. Moreover, five of the 10 bestselling biotechnology drugs in the U.S. during 2013 were therapeutic MAbs, each with annual sales over $6 billion.

By using human-derived genes, True Human™ antibodies are not likely to be detected by the immune system as foreign, and thus, are expected to offer improved safety, efficacy, and commercial value versus existing antibody therapeutics, including those currently referred to as "fully human."

XBiotech holds 39 issued and over 100 pending patent applications in various global jurisdictions. Its lead product candidate has intellectual property coverage in the U.S., Japan, Europe, and 14 other countries.

XBiotech has skilled leadership, including CEO John Simard, who was founder of CTL ImmunoTherapies and AlleCure, and a Board of Directors that includes the former CEO/chairman of Novartis, Dr. Vasella, who has been ranked among Europe's and the world's most influential leaders by both Time and the Financial Times; the former EVP of operations at Amgen, Dr. Bonanni; and Thorpe McKenzie, co-founder of Tiger Management (TIGER fund).

On April 17, 2015, XBiotech announced the closing of its initial public offering of 4,000,000 shares of its common stock at an initial public offering price of $19.00 per share for a total offering amount of $76 million, before the underwriting discounts and commissions and other company expenses.
*******************************************
information, including the latest research and headlines,
on XBiotech Inc. (XBIT-NASDAQ).
*******************************************