By now, most people who follow Steve Saleen and his American sports cars business of the same name, Saleen Automotive (SLNN-OTC), know that the company has recently been developing electric vehicle technologies suited for the same American consumers who value the speed and performance of classic muscle cars. In the high-performance sports car and supercar markets that Saleen targets, there is a growing consumer interest in fuel-efficient technologies that are packaged into a well-designed and performance-capable platform. Steve Saleen believes that his company's skilled engineering, design, and production capabilities give it an competitive advantage in developing fuel-efficient American vehicles that continue to exceed performance specs.

Thus, in response to these changing market dynamics, within the past year Saleen has added to its portfolio an EV development program, as described in this article, which is designed to capitalize on the industry's rapidly growing interest in hybrid technologies with boosted performance. After months of careful R&D, Saleen plans to debut its first-ever electric vehicle, dubbed The Saleen FOURSIXTEEN, on Sunday, August 17, 2014, at the 2014 Pebble Beach Concours d'Elegance in Carmel, California.

Reimagining the Tesla Model S

In January 2014, Saleen announced that it was producing a Saleen version of the Tesla, based on the Tesla Model S electric sports car. The Model S represents a choice for Saleen that moves the Company into more fuel-efficient, low-emissions vehicles without deviating from its core values of producing vehicles known for their power, style, and performance. The Tesla Model S was named the best overall car for 2014 by Consumer Reports and was the 2013 Motor Trend Car of the Year. Of 260 cars tested by Consumer Reports, the Tesla Model S was the top pick in performance, reliability, and safety. Its fully electric engine has an estimated EPA range of 265 miles on a single charge (though actual use reports vary), yet still manages to complete a quarter-mile in 12.5 seconds at almost 111 MPH and a 0 to 60 MPH time of 3.9 seconds (Source: Motor Trend, August 27, 2012).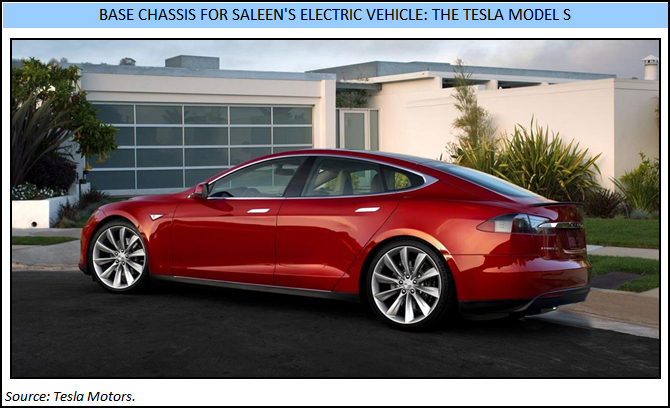 Partnerships with the Art Center College of Design and AC Propulsion

The design of Saleen's "Saleen Tesla" EV was created in partnership with the Art Center College of Design (Pasadena, California). This school is known for the skills of its alumni in automotive design, which include Mr. J Mays, a former vice president and chief creative officer for Ford; Mr. Ken Okuyama, former chief designer for General Motors, a senior designer for Porsche, and a design director for Pininfarina S.p.A. (where he was responsible for the Ferrari Enzo and Maserati Quattroporte); Mr. Chris Bangle, the first American to head design at BMW; and Mr. Frank Stephenson, who is currently design director at McLaren Automotive; among many others. Saleen employs Art Center College of Design alumni on its team as well, and is capitalizing on the creative talent of this school located only an hour away from the company's Corona, California, headquarters.

Saleen also worked with AC Propulsion to design the first Saleen EV. AC Propulsion has been developing EV technologies since 1992—well before many others in the automotive industry. While AC Propulsion does not build EVs itself, the company has developed considerable expertise in the design and implementation of electric motors. Its technology had a major role in inspiring Tesla Motors, which used the AC Propulsion technology in the Tesla Roadster, a mass-produced version of AC Propulsion's tzero™ concept. BMW has also used AC Propulsion to provide the drivetrain technology for an all-electric version of the BMW Mini. For the Saleen Tesla, AC Propulsion is responsible for providing the technology and implementation of the car's powertrain and battery. Saleen believes that AC Propulsion's knowledge of and specialization in high-performance, high-efficiency induction motors and integrated high-power battery charging can be particularly beneficial to the company's EV development.

Development Path of the Saleen FOURSIXTEEN

In April 2014, the company published the renderings of how its forthcoming "Saleen Tesla EV" was likely to look. Then over the summer, the company debuted a track test version of its Saleen EV, which Teslarati (a Tesla lifestyle and product news group) was on hand to witness.
Teslarati said of these early tests:
"We test drove the Saleen Tesla Model S on the track and also played chase with it in our very own Teslarati 48 race car, and can say the differences were astounding. The electric Saleen was fast. It cornered fast, pushed strong and the braking was radically different. It's safe to say the Saleen Model S will be true to both of its DNAs, well engineered and race ready."
Saleen has been vocal about how the company is not expanding solely on the exterior design and aesthetics of the Tesla Model S, but is also incorporating a number of signature Saleen mechanical enhancements, which have been kept relatively under wraps so far.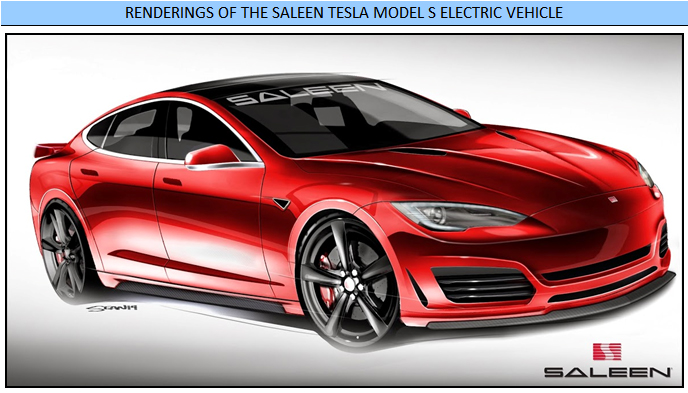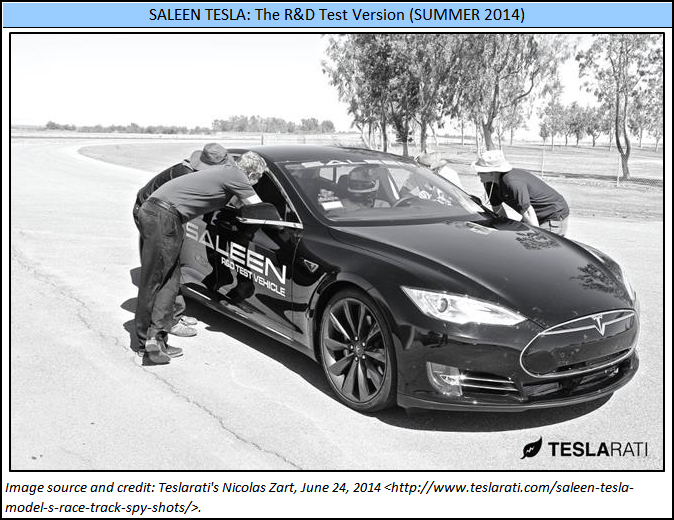 In early August 2014, Saleen annouced the official unveiling of its new EV, which is to be held Sunday, August 17th at Pebble Beach. The car is now officially named the Saleen FOURSIXTEEN instead of a Saleen Tesla, though it is based on the Tesla Model S. It will be showcased on the Concept Lawn for the public and the media to access, and the company plans to release further details and images of the car following this first-ever public viewing.
Saleen's EV Competitive Advantages

As detailed in our Executive Informational Overview for Saleen Automotive (published on June 12, 2014), rising CAFE standards and changing consumer tastes are beginning to favor more fuel-efficient vehicles as well as vehicles that have an improved environmental impact in terms of reducing a dependency on fossil fuels and thus reducing the emission of harmful greenhouse gases. Though Saleen has focused on performance and not gasoline alternatives in the past, the knowledge and skill in automotive development that the company has already obtained is expected to give Saleen a competitive advantage in the future development of EVs. Saleen believes its advantages stem from its knowledge of the automotive industry, ability to convert existing chassis as well as create ground-up new ones, and ability to successfully move a concept car through production and regulatory certifications into a commercially viable vehicle.
***************************************************
For further details of Saleen's heritage, current production, and growth plans, as well as details of the automotive market and fuel-efficiency trends, please download a complimentary electronic copy of our Executive Informational Overview on Saleen available here.
***************************************************