May 15, 2012 (Marketwire), SAN DIEGO, CA--

LRAD Corp. (LRAD-NASDAQ) announced it has received a $1.7 million LRAD-RX systems order for Asian maritime security. Deliveries on the order are scheduled to begin this quarter and continue into the Company's 2013 fiscal year.
"This order further confirms that our LRAD-RX systems are becoming an important component in maritime escalation of force (EOF) protocols to help combat terrorist and piracy threats," stated Tom Brown, president and CEO of LRAD Corporation. "When a suspicious vessel fails or refuses to respond to radio calls, the LRAD-RX initiates the EOF through powerful voice broadcasts and deterrent tones. By unequivocally determining the intent of an approaching threat, the LRAD-RX assists armed security forces to avoid accidental shooting incidents while providing them time and distance to scale their response and make life and death decisions."
The Company's proprietary LRAD-RX (shown below) features a camera, high intensity searchlight (optional), a robust, IP-addressable full pan and tilt drive for precise aiming and tracking, and can be integrated with radar to provide automated vessel alerts. The LRAD-RX broadcasts highly intelligible, hails, warnings and instructions over distances up to 2 miles. Through the use of focused, multi-language voice commands and deterrent tones, the LRAD-RX creates increased standoff zones, determines intent, supports peaceful conflict resolution, and potentially prevents the use of deadly force.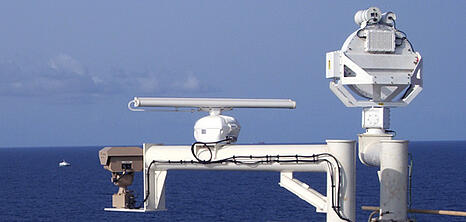 "Our LRAD® systems have proven to be highly effective for maritime security," Brown added. "To date, LRAD systems have helped to prevent accidental shooting incidents and to peacefully resolve hundreds of maritime EOF situations throughout the world."
About LRAD Corporation
LRAD Corp. is using long-range communication to resolve uncertain situations peacefully and save lives on both sides of its proprietary Long Range Acoustic Device®. Thousands of LRAD® systems are in service around the world in diverse applications including fixed and mobile military deployments, maritime security, critical infrastructure and perimeter security, commercial security, border and port security, law enforcement and emergency responder communications, asset protection, and wildlife preservation and control.
For more information about the Company and its LRAD systems, please visit http://www.crystalra.com/research-library/lrad-corp/.