The Chicago Police Department has announced that it will use LRAD Corp.'s (LRAD-NASDAQ) long-range acoustic devices (LRAD) to communicate to crowds during the 2012 NATO Summit in Chicago. This is one of many safety and security measures the city has put in place in preparation for the event, which begins Sunday, May 20, 2012. Various protests and demonstrations are expected leading up to and throughout the Summit.
The Chicago Police Department sought improved techniques to ensure that orders can be effectively delivered to crowds and protestors. Just this morning, a federal court judge gave preliminary approval to a $6 million+ settlement to protestors who were arrested by Chicago police after police failed to give clear orders to protestors during an anti-war march nearly a decade ago. Chicago Police have purchased two LRAD units to clearly communicate messages to crowds at the upcoming Summit.
LRAD Corp.'s products have also been used for public safety at the G20 Summit in Pittsburgh during 2009 and the Occupy Wall Street movement in New York and Los Angeles in late 2011.
Long Range Acoustic Device® (LRAD®) Platform
The LRAD® platform uses directionality and focused acoustic output to support communication over distances of 10 meters to 8,900 meters. Similar to a spotlight, which produces an intense beam of light directly onto a subject, each LRAD® system delivers a focused directional audio broadcast. The beam width, frequency range, and maximum continuous output of LRAD® devices ensures intelligible communication over both distance and loud background noise, and can be adjusted to target individuals, small groups, or large crowds. By placing sound only where needed, LRAD® improves upon traditional speaker systems and adds novel sound applications that conventional technologies have been unable to achieve.
The Company's product line meets a broad range of requirements for communicating to and deterring potential threats, from the hand-held LRAD 100X™ to the permanently installed LRAD 2000X™. To the Company's knowledge, each LRAD® model presents the loudest and most intelligible AHD in its size and weight category.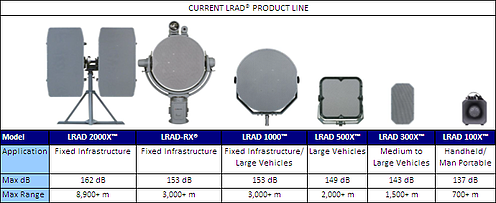 Each LRAD® device is capable of delivering live voice broadcasts through an attached microphone, and both voice broadcasts and deterrent tones using a hardened MP3 player. Messages can be recorded and saved for later use in multiple languages, which can improve communication in situations where a language barrier is present. Moreover, various bird calls and predator tones can be recorded to prevent wildlife from approaching a potentially dangerous area (e.g., wind farms, airports, or waste areas).
LRAD® can be combined with a number of features (e.g., radar, cameras) that further improve communication and interaction. There is also an option to operate the device remotely across an Internet Protocol (IP)-accessible network. Whereas traditional security and sensor networks allow a user to view a location in real-time, LRAD® enables a first responder capability—allowing the user to communicate to an individual in real time. For example, in a security scenario where LRAD® is operated remotely, command and control center officials could communicate directly to an individual before they breach a secure perimeter, which could alter the individual's behavior and potentially prevent that person from entering the area. Moreover, LRAD® can be deployed in nearly any type of environment. The rugged, lightweight, and waterproof casing of LRAD® meets the stringent requirements of the U.S. military—ensuring that the device can be operated in harsh environments while also remaining portable. Figure 3 demonstrates the durability of an LRAD® system.
As of February 2012, LRAD® systems had been deployed in approximately 45 countries across North America, Europe, Asia, Africa, Europe, and Australia.
Additional information about the Company's products and technologies is provided in Crystal Research Associates' 64-page Executive Informational Overview® on LRAD Corp.