Yesterday, after the close of business, global medical device maker, Unilife Corp. (UNIS-NASDAQ), reported its financial results for the fourth quarter of FY 2012, ended June 30th. The Company announced an increase in revenue from $0.7 million in the fourth quarter of FY 2011 to $1.2 million for the fourth quarter FY 2012. Over this same timeframe, net loss increased to $14.9 million, or ($0.21) per share, versus a net loss of $10.5 million, or ($0.17) per share, in the year-ago period. Unilife stated that its net loss increases were largely due to greater R&D expenses, incurred as the Company advances development of its drug delivery device pipeline. Adjusted net loss for the quarter, which excludes non-cash share-based compensation expense, depreciation and amortization and interest expense, was $11.0 million, or ($0.15) per share.
For the full 2012 fiscal year, Unilife's revenue declined to $5.5 million versus $6.7 million in 2011. Importantly, this decrease reflects the Company's discontinuation of contract manufacturing services in December 2010 (FY 2011)--a move that was made in order to allow Unilife to devote resources and attention to developing and commercializing its own line of proprietary devices instead. In FY 2011, the Company had recognized $2.7 million in contract manufacturing sales that are not reflected in FY 2012.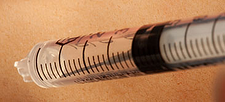 Adjusted net loss for the year ended June 30, 2012, was $37.7 million, or ($0.56) per share, versus $27.1 million, or ($0.47) per share, for FY 2011. The increase in net loss occurred largely from R&D increases during the year, and was partially offset by a reduction in payroll and share-based compensation expense included in selling, general, and administrative expenses.
Cash Position
Unilife ended the year with $13.8 million of total cash (including restricted cash) as of June 30, 2012. Subsequently, in July 2012, Unilife raised net proceeds of $18.8 million from the sale of common stock, resulting in a pro forma cash balance of $32.6 million.
Unilife's recent notable achievements include:
Unifill™ Prefilled Syringe shipments are being made to several new and recurring pharmaceutical customers
AutoInfusor™ devices were selected by pharmaceutical companies for next-stage evaluations
The commercial pipeline for Unifill™ doubles to 40 current and potential pharmaceutical customers
For greater details on Unilife's business, customers/partners, and market opportunities, please refer to Crystal Research Associates' complimentary research coverage on Unilife, available here.