Our second post on "earnings season highlights" focuses on technology company Neonode Inc.(NEON-NASDAQ), which last week reported quarterly financials for the three months ended March 31, 2013. (For the first in this blog series—coverage of PhotoMedex, Inc.'s first quarter earnings—click here.)

In addition to the below discussion, detailed information from Crystal Research Associates about Neonode's business, product lines, strategies, market opportunities, and competition is available here, and the Company's SEC filings can be accessed here.
New Technology for Your Touchscreen
Neonode is a developer of infrared, multi-sensing interfaces that make handheld, consumer, and industrial electronic devices touch sensitive. The Company's touch technology platform is branded zForce®, upon which Neonode has developed a variety of features that sense any object—its size, its pressure on a surface, its depth, its velocity, and even its proximity to the surface. This feature set is called Neonode MultiSensing® touch technology, which represents a newer alternative to standard capacitive touch solutions (such as is used on the iPad®). To date, the Neonode MultiSensing® solution has been used on more than 10 million touch-enabled consumer devices worldwide, including in a Kindle Touch eReader from Amazon.com, Inc., the Nook eReader from Barnes & Noble, Inc., eReaders from Sony Corp., Kobo Inc., and several other manufacturers, and in the MEEP! tablet from Oregon Scientific Inc. The technology has also been licensed for a variety of other consumer electronics and automotive solutions, including to Alpine Electronics, Inc., BYD Co. Ltd., and One Laptop per Child, among other companies in the tablet PC, mobile phone, office equipment, and automotive sectors.
No Screen? No Problem!
The zForce® technology is display agnostic, indicating that it can be added to a variety of surfaces, including liquid-crystal display (LCD), electronic ink (e-ink), organic light-emitting diode (OLED), and electronic paper display (EPD). Accordingly, Neonode's addressable market is considerable, comprising today's touchscreen products as well as any product that may in the future be made touch sensitive. A visual display is not required; thus, zForce® is applicable to touchpads, keypads, door locks, appliances, industrial goods, and other items in addition to handheld consumer electronics.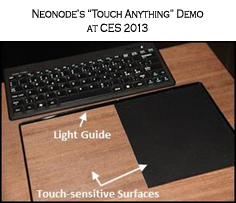 Technology Licensing
Neonode operates via a technology licensing model where revenues are primarily generated through non-exclusive, royalty-based licenses to original equipment manufacturers (OEMs), original design manufacturers (ODMs), and component suppliers. In addition, the Company may offer engineering design services to its customers as well. For the first quarter 2013, Neonode reported net revenue from licenses and engineering design fees of $0.5 million, a considerable decline from the Company's performance last year—when Neonode reported revenues of $1.2 million for the first quarter 2012.
Despite the Company's recent decrease in revenue, Neonode appears to have been hard at work opening up future opportunities. As reported in the Company's Form 10-Q filed on May 8th with the SEC, Neonode has signed 29 technology license agreements with global OEMs, including for many industries beyond the eReader sector. Of note, Neonode expects its customers to ramp-up production and sales of tablets, printers, and handsets in the second half of 2013, and some of the Company's newest technology licenses signed in the first quarter 2013 are with major automotive brands. Subsequent to the quarter's end, Neonode also signed an agreement to incorporate its MultiSensing® technology into certain ATM machines, and the Company believes that some of its key recent agreements in the PC space can lead to touch innovations for Windows® notebook PCs in the near future.
Future Technologies Are Driven by Today's Product R&D
As Neonode seeks to open up additional sources of technology licensing revenue going forward, the Company has drastically increased its investments in research and development (R&D). Neonode reported product R&D for the first quarter 2013 of $1.6 million, up 138% over the first quarter 2012, when product R&D was only $0.7 million.
Likewise, the Company has continued its commitment to patenting its innovations, and has received three new patents in 2013. Neonode now holds 12 patents and 72 pending patent applications.
For the first quarter 2013, Neonode reported a net loss of $3.6 million, or ($0.11) per share, versus a net loss of $1.6 million, or ($0.05) per share, for the comparable quarter last year.