Continuing with our "earnings season highlights" coverage, LRAD Corp. (LRAD-NASDAQ) has reported its fiscal second quarter 2013 financials, which entail results for the Company's three- and six-month period ended March 31, 2013.

In addition to the below discussion, detailed information from Crystal Research Associates about LRAD's business, product lines, strategies, market opportunities, and competition is available here, and the Company's SEC filings can be accessed here.
The Company's Long Range Acoustic Device® (LRAD®) technology uses advanced sound reproduction technologies and novel acoustic materials to broadcast authoritative and highly intelligible instructions, warnings, alarms, and other sounds over several miles. LRAD® improves upon traditional speaker systems and megaphones by directing sound only where needed. Similar to a spotlight, which produces an intense beam of targeted light, each LRAD® system delivers a focused, directional audio broadcast. The beam width, frequency range, and maximum continuous output of LRAD® devices can be adjusted to target individuals, small groups, and large crowds at various ranges. LRAD Corp.'s versatile product portfolio has a range of applications, including public safety, law enforcement, homeland and international security, private and commercial security, maritime security, and wildlife and asset protection.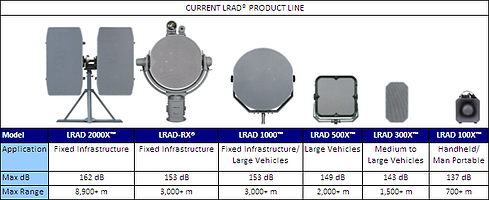 LRAD's fiscal year ends September 30th, making the three months ended March 31st the Company's second quarter. For the quarter, LRAD reported revenue from product sales, contracts, and other sources of $3.2 million, up from $2.4 million in the year-ago period. It is important to note that LRAD's quarterly revenue is subject to fluctuations due to the budgetary cycles of its customer base, which largely consists of domestic and foreign government, military, law enforcement, and other agencies.
Similarly, LRAD's revenues for the six-month period ended March 31, 2013, were $6.2 million versus $6 million for the first half of fiscal 2012.
For the second quarter fiscal 2013, LRAD reported a net loss of $459,000, or ($0.01) per share, versus a net loss of $292,000, or ($0.01) per share, for the second quarter fiscal 2012. For the first half of 2013, net loss was $560,000, or ($0.02) per share, versus a net income of $22,000, or $0 per share, for the six months ended March 31, 2012. For all terms, the increase in net loss to date in FY 2013 results from higher operating expenses due to increases in legal and other professional fees associated with a recent lawsuit and threatened proxy contest, non-cash share-based compensation expense, and research and development costs, partially offset by favorable commission expense, according to LRAD's May 8, 2013, press release.
While LRAD has recently encountered economic and defense budget headwinds as a result of sequestration and spending uncertainty, the Company has worked to mitigate these effects by expanding its acoustic hailing device (AHD) markets, launching additional LRAD® systems, pursuing a pipeline of both domestic and international business opportunities, closely controlling its balance sheet and expenses, and moving into new headquarters with increased and improved manufacturing space, among other benefits. LRAD reports that it is starting to see funds being released for acoustic hailing device (AHD) military purchases in the U.S. and anticipates strong military and international sales for the second half of the fiscal year.
As of March 31, 2013, LRAD held cash and cash equivalents of $15.8 million.