LRAD's Acoustic Hailing Devices to Aid in N. Colorado Flood Relief Efforts

LRAD Corp. (LRAD-NASDAQ) has announced that it has loaned six acoustic hailing devices (AHDs) to the National Guard to aid in relief efforts following the massive flood in Northern Colorado. At least eight individuals were killed by the flooding and hundreds more remain missing. The flood caused an estimated $2 billion in property damage to buildings, roads, power and phone lines and other infrastructure in the area, hindering communication as well as search and rescue efforts.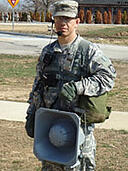 With a broadcast range of 200 yards to over two miles, LRAD Corp. believes that its AHDs are ideal for these circumstances, and can be used to broadcast critical information and instructions to those affected by the catastrophic flooding. Not only can the devices be used by National Guard personnel on land, but can also be used on helicopters to deliver messages to stranded individuals and communities that cannot easily be reached on foot.
LRAD's systems have been used to assist in a number of major disaster relief efforts worldwide, including Hurricane Katrina the 7.0 magnitude earthquake in Haiti in 2010, and the massive earthquake and tsunami in Japan during 2011. LRAD's devices have been used as a mass communication tool as well as to communicate to stranded survivors, to coordinate search and rescue operations, and to broadcast the locations of aid stations and supplies.
LRAD Corp.'s versatile product portfolio of AHDs has a range of applications, including public safety, law enforcement, homeland and international security, private and commercial security, maritime security, and wildlife and asset protection. LRAD Corp. estimates that its systems are in use in more than 60 countries worldwide. Recent orders and contributions have included a $700,000 order to install LRAD 300X systems on international coastal patrol boats, and deployment of an LRAD system on the the HMAS Melbourne, an Australian guided missile frigate deployed to the Middle East as part of the international coalition against terrorism.
Visit LRAD Corp.'s Corporate Profile to see the latest news, stock information, and published research on LRAD Corp.