CardioComm Solutions, Inc. (EKG-TSX.V), a provider of innovative software solutions for information management systems in cardiovascular medicine and telemedicine, has continued to receive positive feedback for its handheld HeartCheck™ ECG Monitor and associated ECG management, viewing, and analysis software (GlobalCardio and GEMS). CardioComm's ECG monitoring products have FDA and Health Canada clearances. The portable HeartCheck™ ECG Monitor product, shown below, gives patients the ability to easily record and analyze their heart rhythms in a medical setting.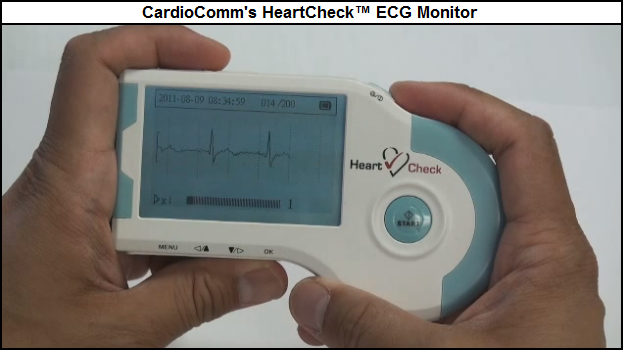 CardioComm is focused on expanding the use of the HeartCheck™ and SMART Monitoring technologies through large-scale and individual ECG screening efforts, with a focus on atrial fibrillation. Atrial fibrillation is a common form of cardiac arrhythmia and a risk factor for stroke. As part of this effort, the Company is targeting related academic research opportunities. CardioComm believes these initiatives could help increase credibility for use of its devices and SMART Monitoring ECG service technologies in future studies.

CardioComm's ECG Screening Technologies Show Benefit in Large-Scale Study
On Thursday, CardioComm announced results from a study comparing the use of HeartCheck™ ECG screening technologies versus manual pulse checks for detecting atrial fibrillation in mass public-screening events. The study was performed as part of the Heart and Stroke Foundation of Canada's 2013 "Be Pulse Aware" screening campaign and included 1,334 participants with an average age of 63 years. This age represents an at-risk population for atrial fibrillation and stroke.
The results, which were presented at the Vascular 2013 Conference in Montréal, showed that pulse checks, even by an experienced health professional, can miss atrial fibrillation and therefore should not be relied on as the primary screening method. In contrast, data collected from screening with the HeartCheck™ ECG Monitor (which was reviewed using the Company's GlobalCardio ECG analysis software) demonstrated a notable 2.1% prevalence of atrial fibrillation, including a new diagnosis of atrial fibrillation in 0.7% of screened patients.
Thus, the HeartCheck™ ECG screening technologies were found to be superior to manual pulse checks for detecting atrial fibrillation in mass public-screening events, and were shown to benefit community screening for atrial fibrillation. The authors of the study recommended that handheld ECG recording devices replace manual pulse checks for cardiac rhythm disorder detection.
"With respect to the objective of the 'Be Pulse Aware' campaign, we support adoption of such ECG screening solutions as it has proven valuable for identification of atrial fibrillation and to increase awareness for stroke prevention."
- Dr. Karl Boyle, the study's primary author and a consultant in stroke medicine, Addenbrooke's Hospital, Cambridge University Hospital NHS Foundation Trust

HeartCheck™ Technologies to Be Evaluated in Additional Screening Trial
Last week, CardioComm announced that its HeartCheck™ technologies were to be used in an additional clinical arrhythmia risk screening and stoke prevention trial in Canada. CardioComm has been selected as provider of ECG screening solutions for the Canadian Atrial Fibrillation Stroke Prevention Intervention Network's (CSPIN) study entitled Program for the Identification of 'Actionable' Atrial Fibrillation: Systematic Screening to Detect Previously Undiagnosed or Untreated AF in the Community or "PIAAF."
The goal of the study is to determine the most cost-effective methods to screen 8,000 individuals (ages 65+) for atrial fibrillation, as well as to identify the patients who could benefit from oral anticoagulation therapy. The study is expected to be conducted across at least 25 rural and urban family practices and 20 pharmacies in Ontario, Québec, British Columbia, Alberta, and Nova Scotia.

CardioComm's Planned Partner Program
CardioComm has also announced plans to launch the ECG screening HeartCheck™ Partner Program, which the Company believes could help expand adoption of HeartCheck™ and SMART Monitoring technologies. This program is expected to focus on long-term care facility operators, pharmacy channels, and health fitness providers.
* * * * * * * * * * *
Visit CardioComm's Corporate Profile to download a free copy of CardioComm's Executive Informational Overview®, which provides a detailed summary of the Company and overviews the HeartCheck™ products and SMART Monitoring solutions.
* * * * * * * * * * *