Neonode Inc. (NEON-NASDAQ), a company that specializes in touch-sensing technologies for electronic devices, continues to improve its proprietary platform technology while expanding its potential applications. The Company's patented MultiSensing® Technology enables users to interact with electronic devices by touching areas on a screen. Neonode's technology recognizes any object (e.g., finger, stylus) and supports multiple touches on the screen simultaneously. It can sense an object's size, pressure on a surface, depth, velocity, or proximity to the screen's surface.
Second-Gen Chip Improves Touchscreen Performance, Cost, and Function
Last week, Neonode announced the release of its second-generation high-performance multisensing controller, NN1002, which is used to control the operation of optical touchscreens on various devices. The Company reports that the fully integrated controller builds on the Company's first-generation optical touch controller—the NN1001—which boasts ultra-low-power use and is comprised of a single chip. Both the NN1001 and NN1002 models were developed in collaboration with Texas Instruments.
NN1002 was created to improve the performance, cost, and functionality of touch systems. The chip allows manufacturers to produce touchscreens that have high optical clarity and are lightweight. The chip is designed for use in mobile phones, tablets and e-readers, toys and gaming consoles, printers, white goods (e.g., refrigerators, washing machines), wearable goods (e.g., watches, exercise bracelets), automotive infotainment systems, and PCs, among other applications with touchscreens. Improving upon its predecessor (the NN1001), the NN1002 can also be used on larger screens, including those found on notebooks and monitors, and has even lower power requirements.
Additional features in the NN1002 chip include a self-scanning mode that enables the device to transition to "sleep mode" until a touch or proximity event occurs. Neonode reports that its chip removes the need for an external microcontroller and other components (e.g., such as white/visible LED-drivers and I/O port extender), potentially lowering costs for OEMs.
Expansion into Outdoor and Industrial Touchscreen Markets
On October 7, 2013, Neonode announced a collaboration with Lierda Science & Technology Group Co., Ltd., a Chinese company offering embedded technology solutions for high-tech products. Specifically, Lierda sought to incorporate Neonode's MultiSensing® touch technology into a 7-inch platform designed for outdoor displays as well as industrial uses, including point of sale (POS), automotive, and human machine interface (HMI) applications, among others. Lierda cited the high response time and improved user experience as key factors in selecting Neonode's touch technology for these applications. Additionally, Neonode's MultiSensing® solution is designed to withstand frequent use and wear, offers a glare-free user interface, and is resistant to false touches caused by dust, grime, or water droplets—factors that are especially important for open-air displays.
In its October 7th press release, Neonode identifies the license agreement as "a high-royalty business." Moreover, the Company believes that this license agreement represents increased traction in the emerging Internet of Things (IOT) applications market, which encompasses a range of everyday physical objects that can send and receive data via an Internet connection. IOT products include Internet-connected mobile phones, tablets, e-readers, toys, gaming consoles, printers, white goods, wearable goods, and advanced automotive infotainment systems.
Neonode's Substantial List of Licensees
Neonode operates via a technology licensing model where revenues are primarily generated through non-exclusive, royalty-based licenses to original equipment manufacturers (OEMs), original design manufacturers (ODMs), and component suppliers. MultiSensing® has been employed in a Kindle Touch eReader from Amazon.com, Inc., the Nook eReader from Barnes & Noble, Inc., eReaders from Sony Corp. and Kobo Inc., and the MEEP! tablet from Oregon Scientific Inc.
Although never formally announced, Neonode's technology also appears to be included in LeapFrog's New LeapPad Ultra. Not only is the LeapPad Ultra is featured prominently on Neonode's homepage (shown in the screenshot below), this possibility was speculated in a Seeking Alpha article in June and followed shortly after Neonode's May 2013 announcement, which described a license agreement with "a high-volume children's tablet from an undisclosed tier-one OEM."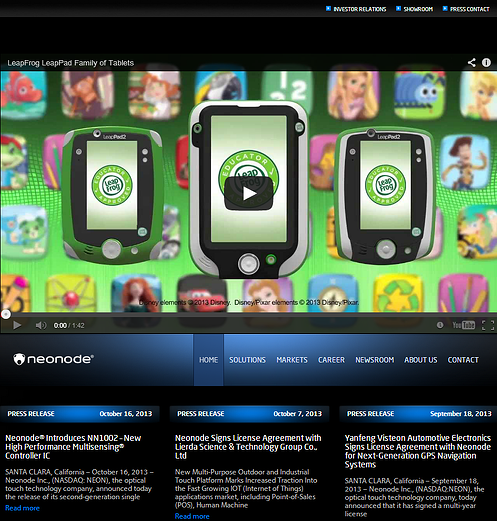 Screenshot of Neonode's Homepage (www.neonode.com) on 10/18/2013.
The Company has also secured license agreements with two tier-one global consumer electronics OEMs in South Korea (rumored to be LG and Samsung in this Seeking Alpha article). Other licensees have included Visteon Automotive Electronics Co., Ltd, Alpine Electronics, Inc., Netronix, Inc., BYD, CheonJo Corp., Shenzhen Wave, and One Laptop Per Child, among other companies in the tablet PC, mobile phone, office equipment, and automotive sectors.
* * * * * * * * * * *
Visit Neonode's Corporate Profile for more information
about the Company and its touch technologies as well as
the latest news and stock information.
* * * * * * * * * * *