Earlier this week, Trio Resources, Inc. (TRII-OTC) announced that it has started the process of automating a mill that was recently purchased for its Duncan-Kerr Property. Trio is a Canadian exploration-stage and small-scale processing company focused on developing the current mineral potential of historically rich mining regions.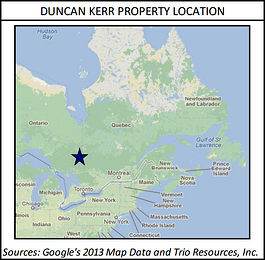 The Company owns 100% of the 94-acre Duncan Kerr property located near the town of Cobalt, Ontario. Exploration to date has identified several areas of interest on the property, where geology is believed to be favorable for silver mineralization.
Trio supports its development efforts through revenue generated by processing stockpiles of mineralized ore in the Company's onsite mill—a capability that is atypical for a junior exploration company. Trio's goal is to be cash-flow positive primarily through milling and marketing mineralized material and concentrate to refiners. As of May 2013, the Duncan Kerr property hosted approximately 1.3 million tons of aboveground mineralized inventory (concentrate, crushed ore, muck piles, etc.), which Trio has begun processing for its residual mineral content.
Transition to In-House Processing
Trio's goal is to process its stockpiles in-house to increase the value captured from its above-ground mineralized materials. Trio has cancelled its five-year off-take agreement with United Commodity AG, which was to aid in recovering the mineralization present in Trio's stockpiles. The Company stated that United Commodity failed to meet the terms of the agreement, and believes that performing these efforts internally could enable Trio to monetize metals at a more profitable rate.
The Company has purchased a gravitational mill, which is now in the automation process. Once installed, the mill will be able to process up to 100 tons a day at full capacity in addition to supporting off-site monitoring and troubleshooting. Trio expects the mill to be operational by the end of 2013.
The Company is renovating its current facility on the Duncan-Kerr Property to accommodate its new equipment. Trio has retained Golder Associates, an engineering and construction firm specializing in energy and mining projects, to provide consulting on the design and permitting of the project.
* * * * * * * * * * *
Visit Trio's Corporate Profile for more information
about the Company's properties and current initiatives
as well as Trio's latest news and stock information.
* * * * * * * * * * *