Online media company Local Corporation (LOCM-NASDAQ) reported this morning on new market research commissioned from Borrell Associates. Among its services, Borrell works to gauge ad spending in local markets. The company forecasts that the online pay-per-call ad spending sector (also known as "enhanced directory assistance") could be worth $8.1 billion by 2018, up from a current value of approximately $1.7 billion. Moreover, business use of this form of online advertising is anticipated to more than double by 2018. As more and more online searches for local goods and services are being performed on mobile devices (as opposed to on the traditional desktop platform), Local Corp. and other industry experts believe that pay-per-call as a mobile lead generation ad model will be key to generating revenue off of mobile consumers.
So What Could This Mean for Local Corp. (LOCM)?
For the past several years, Local Corp. has been expecting the growth of pay-per-call for mobile searches and has been pursuing a competitive patent position in this space. To date, the company states that it has been issued five patents related to pay-per-call advertising solutions, which it anticipates will help the company generate revenue off of the more than 32 million unique visitors who accessed Local Corp.'s search data via mobile devices each month in the third quarter 2013. (Yes, that is 32 million—a drastic increase over the 12 million unique monthly visitors via mobile devices that the company reported in the first quarter 2012.)
However, despite mobile representing a large, and growing, source of the company's search traffic, generating revenue from this emerging consumer base has proved difficult for advertisers and media companies alike. Facebook (FB) has become notorious for its challenges in effectively monetizing its enormous mobile subscriber base, and Google's (GOOG) third quarter financial results also illustrated a struggle with achieving the same revenue for mobile advertising as for desktop ads. The online giant reported an 8% decline in ad sales year-over-year, largely due to lower monetization for mobile ads—despite a more than 50% increase in ad clicks coming from both phones and tablets during the quarter.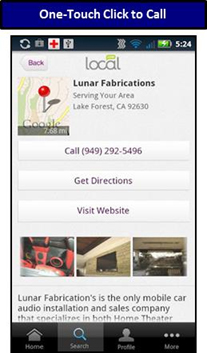 As a result, to address this issue of monetization in the mobile advertising market, Local Corp. is pursuing a strategy of ramping up its pay-per-call technology. Whereas traditional pay-per-call systems (such as 411) required a customer to pay to access directory listings, the service is now transitioning to an advertiser-pays model. Local Corp.'s established patent position may help it expand its reach into the emerging pay-per-call mobile ad industry. For example, the company's patent No. 8,306,208, entitled "Enhanced directory assistance services in a telecommunications network," covers a pay-per-call enhanced directory assistance method or system through which pay-per-call advertiser listings are provided to consumers in response to directory assistance inquiries. In addition to offering directory assistance for traditional voice-based inquiries, the system may also encompass text and voice command requests from smartphones. Further, the patent includes coverage for a method or system to dynamically order pay-per-call directory listing results and track subsequent telephone referrals.
Other U.S. patents held by the company include patent No. 8,359,049 and focus on mobile implementations using wireless messaging protocols to receive keyword search data associated with a directory service request and to match it with a relevant advertiser associated with the keyword search.
Pay-per-call appears to be a natural way to monetize the rapidly increasing number of local searches being made through mobile devices and could represent a high-value target market for Local Corp., based on Borrell's research. Though performance remains to be seen, a company like Local Corp. with the intellectual property and business expertise serving local ad markets could be a force in this sector going forward.
* * * * * * * * * * *
Visit LOCM's Corporate Profile for access to
the latest research, news, and stock information
on Local Corporation.
* * * * * * * * * * *