NEW Quarterly Update Available for CardioComm Solutions (EKG-TSX.V)
Happy New Year!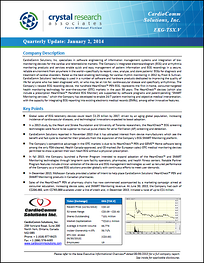 2014 is already off to a great start for us, as we announced a new 20-page Quarterly Update this morning on CardioComm Solutions, Inc. (EKG-TSX.V). The report is available for download here.
Canadian cardiac company CardioComm Solutions specializes in software engineering of information management systems with integration of bio-monitoring devices for the cardiac and telemedicine markets. The company's technology was rated as the best enabling technology for cardiac rhythm monitoring in 2012 by Frost & Sullivan, and since then, CardioComm Solutions has made considerable headway in product development and commercialization.
Today, CardioComm Solutions' electrocardiogram (ECG) and arrhythmia monitoring products and services enable quick and easy management of patient information and ECG recordings in a secure, reliable environment from anywhere in the world—specifically allowing physicians as well as patients the ability to record, view, analyze, and store ECGs for diagnosis and treatment of cardiac disorders. This technology is used in a number of software and hardware products from CardioComm as well as licensed to third parties like GE Healthcare, with the objective of improving the quality of life for anyone who has been diagnosed with, or who may be at risk for, cardiovascular disease (specifically arrhythmias). The company's newest ECG recording device, the handheld HeartCheck™ PEN ECG, represents the first in-home, consumer-targeted health monitoring technology for over-the-counter (OTC) markets in the past 30 years.
Key Points
The Quarterly Update released this morning overviews CardioComm Solutions' business, and details the company's recent milestones and near-term goals. Of note, some of the key topics in the Update are as follows:
Global sales of ECG telemetry devices could reach $1.25 billion by 2017, driven by an aging global population, increasing incidence of cardiovascular diseases, and technological innovations expected to boost adoption.

In a 2013 study by the Heart and Stroke Foundation and University of Toronto researchers, the HeartCheck™ ECG screening technologies were found to be superior to manual pulse checks for atrial fibrillation (AF) screening and detection.

CardioComm Solutions reported in November 2013 that it has attracted interest from device manufacturers which see the benefit and fast cycle to market for their products from the expansion of the company's ECG SMART Monitoring platform.

The company's competitive advantage in the OTC markets is due to its HeartCheck™ PEN and GEMS™ Home software being among the only FDA-cleared, Health Canada-approved, and CE-marked (for European sales) OTC medical monitoring devices permitted to show a person their own heart ECG without a physician prescription.

In fall 2013, the company launched a Partner Program intended to expand adoption of the HeartCheck™ and SMART Monitoring technologies through long-term care facility operators, pharmacies, and health fitness centers. Notable Partner Program features include clinical validation of the device and ECG management technologies as well as tenured performance of the company as a trusted ECG solutions provider globally with continuous efforts to meet user demands.

In December 2013, McKesson Canada provided a Letter of Intent to help place CardioComm Solutions' HeartCheck™ PEN and SMART Monitoring products in Canadian pharmacies. You may request a copy of the McKesson LOI by contacting investorrelations@cardiocommsolutions.com.

Sales of the HeartCheck™ PEN at pharmacy chains has now commenced accompanied by a comprehensive marketing campaign aimed at consumer education, increasing device sales, and SMART Monitoring revenue.
****************************
Visit CardioComm's Corporate Profile by Crystal Research Associates to download CardioComm's Quarterly Updates, Slide Presentations, and Executive Informational Overview®, which provides a detailed summary of the company and overviews the HeartCheck™ products, SMART Monitoring solutions, and GEMS Software, market opportunities, competition, growth strategies, milestones, and more.
****************************