After the close of business today, we published our first Quarterly Update on Document Capture Technologies ("DCT"), a growing, innovative company seeking to transform information management.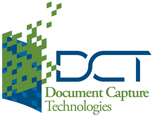 Over the past decade, information management has become increasingly important, particularly with regard to how information is stored and shared. Accordingly, DCT (or "the Company") provides demand-driven solutions for the paper-to-digital revolution that emphasize convenience, speed, and quality. The Company's flexible and mobile scanning solutions create usable electronic content suited for database, document, content, and other systems. In doing so, these solutions are intended to reduce organizations' operating costs, improve information accuracy and security, and speed-up processing time. DCT produces more than 30 document and image capture platforms, which are distributed globally. To date, the Company has shipped nearly four million scanning products. Customers include Tier 1 original equipment manufacturers (OEMs), value-added resellers (VARs), and other systems integrators. To DCT's knowledge, it is one of the largest manufacturers of USB-powered, page-fed, mobile scanners worldwide.
DCT's USB-powered scanners include smart functionalities, software support, and innovative security features. The Company is also working to launch next-generation autonomous products that incorporate capabilities such as Wi-Fi and Bluetooth connectivity with the ability to upload scanned documents to mobile devices (e.g., smartphones) or cloud-based solutions. Accordingly, in May 2011, DCT integrated its DocketPORT® product line with a third-party software called ScanDrop, which allows consumers to scan directly to the cloud.
In August 2011, DCT received its largest purchase order to date. The order, from a Fortune 500 global technology company, entails three products for anticipated sales through North American retail channels, including major office supply chains and electronic specialty retailers.
DCT also received a key purchase order in May 2011, which entailed the delivery of thousands of units to a U.S.-based financial institution. This sale establishes the Company's products as viable solutions within the financial sector and is expected to lead to follow-on banking and finance orders.
The second quarter 2011 was the seventh consecutive quarter for which DCT reported annual quarter-over-quarter sales growth. For the second quarter (ended June 30, 2011), DCT reported revenues of $3.8 million, representing a 17% increase over the second quarter 2010. The number of units sold during the quarter was up 11% from the 2010 quarter. For the six months ended June 30, 2011, DCT had revenues of $7.4 million, a 10% increase over the first half of 2010 that was largely due to organic growth from existing, recurring customers.
DCT has finalized a bilateral partnership with Microtek International, Inc. (2305-Taiwan), a global supplier of scanner technology. DCT now serves as the exclusive North American distributor for several of Microtek's product lines, and Microtek is the exclusive partner in Asia for DCT's products. DCT expects this alliance to appeal to existing customers as well as create revenue opportunities with new clients, as it augments both companies' image capture offerings across a range of price points and functionalities.
At June 30, 2011, DCT had a cash position of nearly $1.3 million and working capital of $4.6 million.