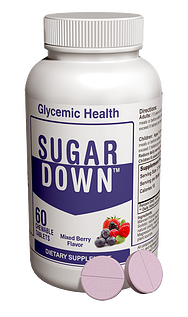 Boston Therapeutics (BTHE-OTC), a developer of compounds that address blood sugar management and inflammatory disease, has announced the signing of a strategic marketing agreement with Benchworks SD, LLC, a branding and marketing agency, aimed at increasing brand awareness and sales of SUGARDOWN®.

SUGARDOWN is Boston Therapeutics' currently marketed dietary supplement that, when taken prior to meals, supports a reduction in the post-meal elevation in glucose resulting in healthy blood sugar levels. Clinical studies conducted at the University of Sydney in Australia indicated that the consumption of SUGARDOWN prior to a high carbohydrate meal of rice resulted in lower incremental area under the curve (iAUC) measurements for glucose and insulin, indicating a reduction in post-meal elevation of blood glucose and insulin when compared with the control group.

Benchworks plans to maximize brand recognition by positioning SUGARDOWN as an adjunct to diet and exercise, beyond the current intended use as a dietary supplement, to better manage blood sugar levels. Benchworks plans to take a three-pronged approach in order to broaden awareness of the potential benefits of SUGARDOWN and increase brand recognition: (1) increase awareness among people who may be at risk of developing diabetes and their caregivers; (2) create a bond with healthcare educators and nutritionists who would recommend SUGARDOWN for their patients; and (3) strengthen SUGARDOWN's medical profile by continuing to build on new data from additional clinical trial results and new scientific findings.

About Benchworks

Benchworks, based in Chestertown, Maryland, specializes in branding and positioning products by developing marketing promotions, product launches, and online solutions for corporate clients ranging from mid-sized firms to Fortune 500 companies. Its client roster includes leading life science companies such as Pfizer, Shire Pharmaceuticals, and Noven Pharmaceuticals, as well as other industry leaders in different market segments.

For more detailed key points, see our summary of Boston Therapeutics here.

Click here to access the full 60-page Executive Informational Overview on the Company, complete with details of Boston Therapeutics' IP, management, growth strategies, product development, financial position, competition, and more.

Click here to access Company profile of BTHE http://www.crystalra.com/research-library/boston-therapeutics.