This morning, CardioComm Solutions, Inc. (EKG-TSX.V), a developer of software for informational management solutions used within the diagnostic cardiac and telemedicine markets, announced the receipt of an FDA Class II Medical Device Clearance for its proprietary GUAVA II ECG Viewer software.
CardioComm Solutions' electrocardiogram (ECG) products and technologies are used to reliably record, view, analyze, and store patients' ECGs in an innovative and useful manner. This technology allows physicians to review and diagnose patients' heart readings over a virtual healthcare network in real time and with potentially life-saving speed, reducing the time between onset of symptoms and treatment. Patients who are suspected of having or who are known to have cardiac arrhythmias, including high-risk patients with atrial fibrillation (AF), particularly benefit from CardioComm Solutions' products, which are capable of sending immediate alerts as patients' cardiac events are detected. The Company's technology may even detect cardiac events before the patient is aware of symptoms—creating a considerable market opportunity for CardioComm Solutions' services in cardiovascular and aging patients worldwide.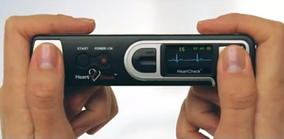 CardioComm Solutions offers two handheld ECG monitors for sale in the U.S., which are used by patients to monitor their heart rhythms at home or on the go: (1) a prescription HeartCheck™ device, and (2) an OTC HeartCheck™ ECG Pen (no prescription required). More details and how to purchase
here
(with a prescription) and
here
(over the counter).
This latest FDA clearance for the Company adds on to CardioComm Solutions' existing medical device clearances for its HeartCheck™ brand of products in the U.S., Canada, and Europe. Today's announcement covers the sale of the GUAVA II ECG Viewer as a medical device to physicians, hospitals, independent diagnostic testing facilities (IDTFs), etc., which would use the software to acquire, store, retrieve, analyze, and produce measurements, as well as textual interpretations, of ECG recordings and data from a variety of single and multi-lead ECG devices, including the Company's HeartCheck™ prescription and over-the-counter devices to record an individual's ECG.
About GUAVA II
Importantly, GUAVA II is a completely rewritten, upgraded replacement for CardioComm Solutions' prior generation software, GUAVA I, that offers a number of critical enhancements designed to streamline ECG interpretations and further CardioComm Solutions' penetration into this market. By re-writing GUAVA, CardioComm Solutions converted it to become a multiple bioscience/biometric monitoring device with interpretation capabilities, with the goal of building one software platform that can measure multiple biosigns from multiple device manufacturers, which CardioComm Solutions believes will be of significant interest in disease prevention management. As an example, currently, call centers may have two to three types of ECG monitoring solutions, just for ECGs. The goal for CardioComm Solutions is to accommodate all monitoring, ultimately, having other software solutions that would look at correlating glucose or asthma readings, etc., where it will only be necessary to operate one program instead of multiple programs and so that companies that make hardware can manufacture it to pair with CardioComm Solutions' software. To this end, GUAVA II contains a re-implemented and expanded core, viewer, and plug-in infrastructure which enables the Company to add support for new devices, algorithms, and additional biological signal measures. In line with improving its interoperability, the new architecture could interface with iOS and Android mobile platforms or various browsers like Internet Explorer, Chrome, Safari, or FireFox in the future.
Features of GUAVA II (as stated in CardioComm Solutions' February 25, 2014, press release)
The most recent ECG viewer software technology to enter the market
Analyzes and interprets ECG recordings and data from a variety of single and multi-lead ECG devices
Utilizes a modular (plug-in) based architecture allowing new features such as automated ECG analysis and interpretation algorithms, and ECG de-noising solutions to be added
Developed under strict ISO standards and international regulations
Offers a new level of regulatory credibility to ECG reading services, as many such services are currently used by IDTFs without FDA compliance since they are considered designed for internal use by the IDTF only
Opens new opportunities to physicians and hospitals that wish to have ECG reviews completed that are adherent with all possible medical clearances
Allows ECG service providers the option to customize their ECG management systems with an FDA compliant solution
Offers significant data development and interoperability potential
Streamlines work flow
Reduces staffing costs
Improves the efficiency of identifying potentially life threatening arrhythmias in monitored patients
Utilizing GUAVA II's Application Programming Interface (API), third party organizations and software developers may license GUAVA II to integrate its capabilities within their own products
****************************
Visit CardioComm's Corporate Profile by Crystal Research Associates to download CardioComm's Quarterly Updates, Slide Presentations, and Executive Informational Overview®, which provides a detailed summary of the company and overviews the HeartCheck™ products, SMART Monitoring solutions, and GEMS Software, market opportunities, competition, growth strategies, milestones, and more.
****************************