Changes in the Mental Health Industry are Benefiting Patients, Providers, Insurers, and Investors
Over the past several decades, there has been a change in how the U.S. views mental health issues. Today, a conversation about a tragic shooting has transitioned from being an "NRA issue" to a "mental health issue," with these topics being picked up by industry, media, and politicians alike. With near-daily news reports of teenage or young adult suicides, attacks on family, military, schools, movie theaters, and so on by undiagnosed and untreated individuals, and a rise in accidental drug overdoses from both illicit and prescription products, today's conversations have begun to focus on increasing fairness in health insurance for behavioral and mental health conditions while reducing the stigma, costs, and hopelessness of seeking treatment for those who are suffering from a mental or substance use disorder.
Historically, there has been a disparity in treatment in the U.S. between behavioral health and medical health that needs to be rectified. Physical, or medical, health has faced less stigma and has been given higher priority than behavioral health by employers and insurers, who have long fought against increasing coverage for mental health and addiction treatment in the insurance market due to concerns over cost as well as a lack of understanding of the pathology of behavioral health diseases or their appropriate treatments. Consequently, over time, significantly less money was invested on treatment per behavioral health patient in the U.S. than on physical health, and mental health funding was repeatedly reduced.
Today, the behavioral health market is looking very different. According to an April 2016 brief from Saeculum Research, aging baby boomers reaching their mature years are unfortunately accompanied by "a flood of substance abuse and mental health problems acquired from a lifetime of risky behavior." Moreover, younger generations (millennials), who have grown up as part of a new national conversation on mental health and substance abuse, "are not afraid to seek care for the behavioral issues that beset them."
Targeting these health needs, the recently enacted Affordable Care Act (ACA) extended behavioral health coverage to millions of Americans. Under the ACA, in order to be a qualified health plan, substance dependence and behavioral health disease must be covered. The ACA specifically includes prevention, early intervention, and treatment of mental and/or substance use disorders as an "essential health benefit" that must be covered by health plans offered through the new Health Insurance Marketplace (Source: the Substance Abuse and Mental Health Services Administration [SAMHSA]), which includes health plans for small groups and individuals that were not mandated to provide behavioral healthcare in an earlier 2008 Mental Health Parity Act.
Between the ACA and Mental Health Parity Act, it is estimated that approximately 62 million U.S. residents are newly eligible for behavioral health benefits (Source: U.S. Department of Health and Human Services' Office of the Assistant Secretary for Planning and Evaluations' [ASPE] Issue Brief, February 20, 2013). By 2020, this number could include another 32 million new patients via increased Medicaid spending on mental health (Source: Department of Health and Human Services).
As a result, national spending on mental and behavioral healthcare is at all-time highs—reaching $239 billion as of 2014. SAMHSA reports that the growth in this market over the past decade (2003 to 2014) has expanded more than six times faster than GDP, and is almost on par with annual growth rates of total healthcare spending (7.2% for all healthcare; 6.4% for mental health).
Perhaps one of the best indicators of this change in outlook, and the impact of effective treatment, comes from our nation's high schoolers. Though rates of anxiety, depression, and addiction have skyrocketed,* millennials have shown reduced rates of suicide ideation, unintentional injury, fear of crime, and other markers of mental illness versus prior generations. They were also twice as likely as their 1980's counterparts to seek professional help for mental health issues while in high school (2010-2012 versus 1982-1984).
An Investment Boon
Investors are taking note of this major transition in the way mental health and substance abuse is viewed, and recently, treated, in the U.S. New mental health facilities are popping up all over the country, from California to Colorado to Florida. The space is ripe for acquisitions, rising stock performance ($ACHC, $UHS) and high profit margins, according to Saeculum Research. Furthermore, as health plans are now required to offer greater behavioral healthcare coverage, they are seeking out new providers capable of achieving real results in behavioral health that benefit the patient as well as the health plan through favorable economics. Companies like California's Catasys, Inc. ($CATS), which provides Big Data–based analytics and predictive modeling–driven behavioral healthcare services to health plans and their members through its 52-week, outpatient OnTrak program, are in a rapid growth phase as they capitalize on key structural changes in the way behavioral healthcare is administered and covered in the U.S.
Catasys, for one, operates under the premise that successful patient outcomes require provider coordination, a whole-person-health treatment philosophy, member skill building, and long-term reinforcement. The company employs a standardized, evidence-based, integrated treatment program that enables consistent quality of care for members in an outpatient environment, supported by their own Care Coach.
Insurers' Vote of Confidence in Behavioral Health Treatment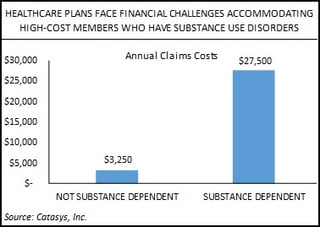 High-cost, substance-dependent members cost commercial health plans an estimated eight times more than other members, averaging $27,500 in annual claims versus $3,250 for a "normal" covered life. Results of a study of Catasys' program with Humana found OnTrak substance abuse treatment led to 16% fewer ER visits, 67% fewer inpatient hospitalizations, and a 46% reduction in healthcare costs compared to a 14% increase in costs for the control group. Since health insurers are under constant pressure to reduce costs, they have an incentive to pay Catasys to enroll members in the OnTrak program.
This approach appears to be working. Over the past two months alone, Catasys has announced expansions of its OnTrak program into new health plans in Louisiana, Illinois, Oklahoma, Pennsylvania, Missouri, and Kansas. The company already operates programs for major health insurers (including Aetna, Humana, Centene, Coventry, and many others) across Florida, Kentucky, Massachusetts, New Jersey, West Virginia, and Wisconsin.
As evidence of the potential growth still to come in the behavioral health treatment market, Catasys, which ended 2015 with contracts for approximately five million commercially equivalent lives (CELs), expects to ramp up to 20 million CELs under coverage by the end of 2016. CELs are a metric of growth potential, as increasing CELs may represent increasing future enrollment.
* According to the U.S. Department of Health and Human Services' National Survey on Drug Use and Health: Mental Health Findings for 2013, approximately 20 million (8.5%) adults in the U.S. met criteria for a substance use disorder (i.e., illicit drug or alcohol dependence or abuse). The National Institute of Mental Health reports anxiety disorders are the most common mental illness in the U.S., affecting 18.1% of the U.S. adult population, or approximately 43 million people age 18 and older. People with an anxiety disorder are three to five times more likely to go to the doctor and six times more likely to be hospitalized for psychiatric disorders than those who do not suffer from anxiety disorders. In addition, in 2013, an estimated 15.7 million U.S. adults aged 18 or older, or 6.7% of all U.S. adults, had at least one major depressive episode in the past year based on a study conducted by the National Survey on Drug Use and Health.
** In September 2015, Crystal Research Associates published a 56-page Executive Informational Overview (EIO) on Catasys, Inc. that details the company's business, markets, and competition. Visit our Corporate Profile and Key Points pages for more information, including the latest research and headlines, on Catasys.