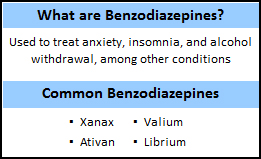 A new clinical study published Tuesday in the British Medical Journal, identified a possible link between long-term use of benzodiazepines and Alzheimer's disease. Researchers examined close to 1,800 Alzheimer's patients who had at least six years of medical data and who had used benzodiazepines at least five years before their Alzheimer's diagnosis, and compared these cases to over 7,100 control patients. All medical records used in the study were from patients over 66 years of age.
Data indicated that the risk of Alzheimer's was 43%-51% higher in elderly adults who had a past history of benzodiazepine use. The longer these prescription products were used, the greater patients' Alzheimer's risk appears to be. Researchers found that long-acting benzodiazepines, and use of the products beyond three months (> 91 doses) were both related to higher risks of Alzheimer's.
The paper concludes
"Benzodiazepine use is associated with an increased risk of Alzheimer's disease. The stronger association observed for long term exposures reinforces the suspicion of a possible direct association, even if benzodiazepine use might also be an early marker of a condition associated with an increased risk of dementia. Unwarranted long term use of these drugs should be considered as a public health concern." (BMJ 2014;349:g5205)
The Washington Post reported that this new data is in line with multiple prior studies, which also acknowledged a correlation between increased use of benzodiazepines and Alzheimer's disease, as well as a 2012 recommendation by the American Geriatrics Society to avoid these psychoactive drugs in older adults precisely because of their effect on cognition.
Need for Safer Therapeutic Options and Improved Alzheimer's Tests
As the body of medical research into the long-term effects of widely prescibed pharmaceutical medicines, such as Xanax, Valium, and Ativan, expands, consumers are becoming acutely aware of the need for new and safer therapeutic options. As a result, in many states, more and more patients are turning to medicinal cannabis products for a more natural, and believed to be safer, remedy to problems like anxiety, insomnia, and chronic pain. Medical marijuana is now legal (in some form) in at least 23 states, and its acceptance as a real treatment for mild to severe medical conditions is expanding rapidly, with preclinical and clinical studies published on its effectiveness for inflammation and pain management, cancer, epilepsy, HIV/AIDS, brain injuries and PTSD, multiple sclerosis, glaucoma, cardiac arrest, osteoarthritis, and organ transplants. While cannabis remains illegal under federal law, there are several new medicines on the market that include cannabinoids in either a synthetic or real form (not an exclusive list):
Marinol (dronabinol) from AbbVie Inc. (ABBV-NYSE)
Cesamet (nabilone) from Meda Pharmaceuticals Inc.
Sativex from GW Pharmaceuticals, plc (GWPH-NASDAQ)
Idrasil from C3 International, Inc. and
Non-psychoactive topical creams from Tauriga Sciences Inc. (TAUG-OTC).
Perhaps due to increasing consumer awareness of the risks of long-term pharmaceutical use, it is estimated that nearly two-thirds of U.S. citizens now take at least one type of nutraceutical health product. The North American market for natural medicine and nutraceutical approaches was valued at $56.4 billion in 2011 and is projected to reach $75.3 billion by 2017 (Source: Nutraceutical World, September 2013).
Companies like Amarantus BioSciences Holdings, Inc. (AMBS-OTC), which is working to develop convenient blood-based diagnostic tests to better identify Alzheimer's patients early on in the disease process, could also have a role in helping mitigate the disease's impact going forward.