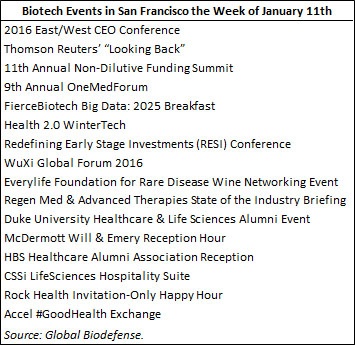 "Building a profile and becoming 'known' is a critical part of raising money…" — Erin Righetti, partnering360®
Healthcare conferences are in full swing this week in San Francisco, with attendees from companies large and small making the circuit at J.P. Morgan's Annual Healthcare Conference, the EBD Group's annual Biotech Showcase™, the StartUp Health Festival, and many others. From corporate presentations to strategic one-on-one meetings and even impromptu run-ins, networking opportunities abound and it is important for CEOs to be able to quickly, concisely, and effectively pitch their company to potential investors and/or partners.
Partnering360®, a network for dealmakers in the life science industry, has compiled a list of tips for maximizing brief presentation time when and to whom it really counts. The site's advice is based on input from multiple seasoned investors who participated in a BioPharm America™ panel last year and reflects what investors themselves respond best to in pitches. We have combined these tips with our own experience in effectively communicating novel biotech, pharma, and medtech stories to Wall Street investors, the media, and other interested parties over the past two decades.
For a full summation of quotes and tips from the panel, click here.
1) Focus and Repetition
It is better to be able to clearly present the merits of one program, than try to overview multiple programs and leave your audience confused on your business's strategic importance. Especially in a time-limited meeting, Richard Anders, founder and executive director of Mass Medical Angels, advises CEOs to crystalize their pitch "into one nugget rather than multiple nuggets." Knowing, and being able to summarize your competitive advantage, into a single key phrase of three to five words that can be repeated often will be immensely helpful in situations where you only have about 30 seconds to make your pitch.
In longer pitches, people are often tempted to include all the pertinent information about their business that they can think of. Don't fall prey to this. Rather, choose at most three messages that can be concisely explained, and then repeat those three times in your presentation. Audience members will usually walk away remembering at least one of them. Flooding your audience with too much information (five or more key points stated only once each) can be overwhelming and prevent any information from being absorbed.
2) Make Sure to State Your Targets Early in the Conversation
Particularly for pharma and biotech companies, make sure to state your target indications at the start of your presentation. If investors hear nothing else, they may remember your business because you are going after a certain target that they themselves are interested in.
"It's important to say what your target is, there are certain targets that all of us are interested in." — Sara M. Nayeem, Principal, New Enterprise Associates
One great way to present your value proposition for your target indications is through a problem-solution format. What are the limitations or problems of current drugs in your space? How do you fix that? This is a simple approach that is inherently easy for investors to comprehend in a short timeframe.
3) Be Straightforward and Concise in Asking for an Investment
Most often, the goal of generating awareness of your business is to raise the financial resources needed to move the business to the next level. This is not a foreign nor an uncomfortable topic. Once you have clearly stated what targets your company is pursuing and what new approach you bring to that market, make your ask. Both Dennis Purcell, founder and senior advisor at Aisling Capital, and Douglas MacDougall of MacDougall Biomedical Communications agree that a quick ask is key. Be specific and fast: "Once I get done with Phase I, I'm going to try and raise $20 million" explains Purcell or "I need $20 million now to get into clinical trials." This way, investors know exactly what you need and on what timeframe. Should they be interested now or should they be following you for a year to see how you are doing?
4) Be Flexible and Human
Be able to customize your presentation on the fly. Start out your meetings with a conversation of what topics you have to cover—company history, data, fundamentals—and see what is particularly important to your audience. For example, some investors are most interested in the data. Peter Kolchinsky, managing director and portfolio manager for RA Capital, has stated that his group are self-proclaimed "data junkies" who can get to know you and your company much better "through the data you've got and how you analyze data." The goal is to understand quickly how your technology fits into the competitive framework of that market, and whether or not it is showing signals of efficacy. Included in Kolchinsky's analysis is whether you understand the importance of different kinds of controls or do you oversell based on a poorly controlled trial and a claim of "oh, this clearly works."
Other investors need an understanding of a business's history in order to provide perspective for the data. Some people really want to see your key investment highlights that answer questions such as whether you are headed for an IPO, how much you are looking for, how you have been funded to date and who the other investors are, where did you get your technology from and how long has it been in development, and what are your valuations. This type of information can provide much-needed context for understanding the data.
Above all, establish eye contact and make sure you know what your audience believes is important for you to cover. This serves a dual purpose of ensuring you prioritize correctly during your presentation as well as allows you to begin building a conversational relationship with the other people in the meeting. Biotech investing is a risky business and people look to partner with other people who they trust. MacDougall says "An investor once told me, 'if I don't want to have a beer with that person by the time they got the one-on-one meeting, I'm not going to give them any money.'"
"The best thing to do at these short meetings is have a discussion about the meeting at the beginning for two minutes... Do we want the full story or can we jump ahead to the data, and determine how much time we want for Q&A, rather than you just jumping into your 65-slide deck and only getting to slide 9 before the meeting is over?" — Douglas MacDougall of MacDougall Biomedical Communications
Additional Tips for Presentations
Limit PowerPoint slides to a manageable size, such as 5-10 slides.
Emphasize your differences from everyone else in your space. Tell your audience plainly what about your business model or technological approach is unique and differentiated.
Make sure to point out your management's strengths in your presentation, including the experience and connections of the people involved in your product development.
"Early stage investing is a lot about who you're writing the check to, the experience of the team." — Ann DeWitt, Senior Director, Investments, Sanofi-Genzyme BioVentures
Know your audience! If you are pitching to a representative from big pharma, make sure you have done your homework and know what type of investments the larger firm looks for and what capabilities can be mutually beneficial in that relationship.
Lastly, if you are speaking in a foreign language or have an accent, speak slower for at least for the first five seconds so people can get a feel for your accent before you speed up the pace.
"For me, for a biopharm company, I want to know what disease you're going after, what target, what stage are you at, how much are you raising. Those four things at a minimum are going to get my attention and make me remember. If you don't give me those pieces of information, I probably won't remember who you were." — Sara M. Nayeem, Principal, New Enterprise Associates