Crystal Research Associates announces the publication of an Executive Informational Overview (EIO) on SpectraScience, Inc. (SCIE-OTC), a company commercializing advanced, minimally invasive diagnostic products. The 48-page EIO, which details SpectraScience's business, technology and product development, clinical studies, manufacturing, market opportunities, competition, and more, is available for download below.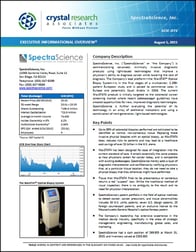 About SpectraScience
SpectraScience uses light-based technologies to improve a physician's ability to diagnose cancer while lowering the cost of diagnosis. The Company's lead platform—the WavSTAT® Optical Biopsy System—is in the final stages of a multicenter, 1,200-patient European study and is poised to commence sales in Europe and potentially Saudi Arabia in 2016. The current WavSTAT4 product is initially targeted to the colorectal cancer screening market where recent colonoscopy guidelines have created opportunities for new, improved diagnostic technologies.
A study of WavSTAT4 conducted by Dr. Helmut Neumann, a professor of molecular endoscopy and interventional endoscopy, and a specialist in internal medicine and gastroenterology at the Department of Medicine at Germany's University of Erlangen-Nuremberg, found that adding SpectraScience's technology to the screening colonoscopy procedure could increase the colonoscopy's negative predictive value (NPV) to 96%—well above the 90% NPV threshold recommended under PIVI guidelines. Similar data showing a 95.4% NPV in diminutive colorectal polyps (and up to an NPV of 98% in distal colorectal diminutive polyps) was presented at Digestive Disease Week held in Washington, D.C. during May 2015.
SpectraScience is further evaluating the potential of its technology in an array of additional oncology indications and using a combination of next-generation, light-based technologies.
Key Points from the EIO
Up to 80% of colorectal biopsies performed are estimated to be identified as normal, non-cancerous tissue. Replacing these invasive physical biopsies with an optical biopsy, as WavSTAT4 does, reduces risks to patients and may lead to a healthcare cost savings of over $1 billion in the U.S. alone.

WavSTAT4 has been designed for ease of integration into the current standard of care. It entails essentially the same process as how physicians screen for cancer today, and is compatible with existing endoscopes. SpectraScience merely adds a layer of diagnostic interpretation and confidence by notifying physicians that, at a particular tissue location, they do not need to take a physical biopsy that they otherwise might have performed.

Tissue that WavSTAT4 finds to be precancerous or cancerous returns a red "suspect" icon. Unlike the traditional method of visual inspection, there is no ambiguity to the result and no need for physician interpretation.

SpectraScience's patent portfolio in the field of optical methods to detect cancer, cancer precursors, and tissue abnormalities includes 34 U.S. utility patents, seven U.S. design patents, 25 foreign counterpart patents, and an exclusive license to the Massachusetts General Hospital's optical forceps patent.

The Company's leadership has extensive experience in the medical device industry, specifically in the areas of strategic management, engineering, manufacturing, global sales, and marketing.
*******************************************
information, including the latest research and headlines,
on SpectraScience, Inc. (SCIE-OTC).
*******************************************