We have published an updated report on pharmaceutical company, Boston Therapeutics, Inc. (BTHE-OTC). The 16-page Quarterly Update covers Boston Therapeutics' financial results for the three- and six-month periods ended June 30, 2014, as well as details recent news releases and pipeline progress since the publication of our previous Quarterly Update on the company in early June.
For a comprehensive look at Boston Therapeutics' business, strategies, product candidates, markets, competition, and risks, our 60-page Executive Informational Overview, dated March 27, 2014, is still available.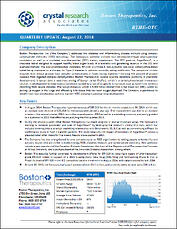 August 2014 Report Highlights
Boston Therapeutics is focused on developing products that address the diabetes and inflammatory disease markets, employing novel complex carbohydrate chemistry (CCC) technology. The company's portfolio includes two development-stage candidates—BTI-320 and Ipoxyn (and veterinary analog OxyFex)—and a marketed over-the-counter (OTC) dietary supplement called SugarDown®. The Company is positioned to benefit from two simultaneous paths to market—OTC and pharmaceutical drug development.

In August 2014, Boston Therapeutics reported revenue of $65,218 for the six months ended June 30, 2014, which was an increase over revenue of $25,454 for the comparable period a year ago. The improvement was due to an increase in sales in the second quarter 2014 versus the second quarter 2013 as well as a marketing incentive previously granted to a customer in 2013 that offset revenue during the first quarter 2013.

During the second quarter 2014, Boston Therapeutics made progress in several important areas. The company is working to increase awareness and sales of SugarDown® by leveraging the product's clinical trial data, which has included entering into a strategic marketing relationship with Benchworks SD, LLC as well as commencing a Phase IIb confirmation study for SugarDown® in Type 2 diabetes patients. The study measures the impact of two doses of SugarDown® (versus a placebo) taken after meals for five weeks. Results are expected in 2014.

Boston Therapeutics further advanced its development efforts for BTI-320 by securing a supply of pharmaceutical-grade BTI-320 tablets in support of a 2015 Investigational New Drug (IND) filing and forthcoming Phase III trial. A Phase IIb study of BTI-320 in the U.S. completed patient enrollment in August 2014, with data expected by late 2014.

The company has also strengthened its core competency as an R&D organization by adding people to leadership and advisory boards who are skilled in biotechnology R&D, diabetes research, and carbohydrate chemistry. New additions include a past president of the Canadian Diabetes Association, the chair of the Department of Pharmaceutical Sciences at Wilkes University, and a past president of the American Diabetes Association, among others.

At June 30, 2014, Boston Therapeutics had a cash position of over $1.5 million, and currently seeks to raise up to $10 million per an August 2014 S-1 filing with the SEC.
* * * * * * * * * * *
the Executive Informational Overview, Quarterly Updates,
news, and other information on Boston Therapeutics, Inc.
* * * * * * * * * *
*