This morning we published a 16-page Quarterly Update on laboratory instrumentation company, Pressure BioSciences, Inc. (PBIO-OTC).
In September 2014, Pressure BioSciences announced that it had commenced manufacture of its new Barozyme™ HT48 units, which are intended for shipment to laboratories for evaluation during fall 2014. The high-throughput Barozyme™ system was introduced earlier this year during the American Society for Mass Spectrometry's (ASMS) 62nd Annual Conference held June 15-19, 2014. The Barozyme™ HT48 is a high-throughput system for the enhanced preparation of proteins for mass spectrometry analysis. It is designed for accelerated enzymatic digestion of proteins at high pressure, using an air-pressure-to-liquid-pressure intensifier system to reach 20,000 psi, and is capable of processing up to 48 samples simultaneously using new and proprietary, single-use BaroFlex 8-well processing strips. Pressure BioSciences believes that the first instrument from current production can be ready for shipment by mid-October 2014 and that additional Barozyme™ instruments can be built and released at a rate of about one per week thereafter.
Further details of the Barozyme™ HT48 and its potential at helping to fuel growth for Pressure BioSciences are provided on pages 7-8 of the Quarterly Update published today.
The Update also covers the company's new ultra-high-pressure HUB880 Barocycler product, which was launched earlier in 2014. The Barocycler HUB880 has an operating range of 1,000 psi to 100,000 psi, which for reference, is approximately 7,000 times greater than normal atmospheric pressure. The HUB880 can reach pressures sufficient to kill most pathogenic and food-borne bacteria, and could enable safe investigation of a number of innovative but yet-to-be-tried biological, chemical, material, and industrial sciences applications.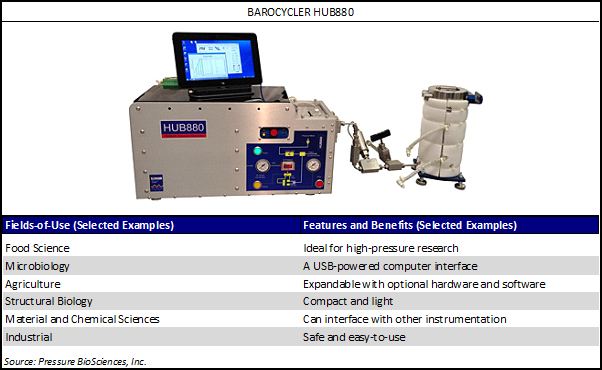 As evidenced by the company's recent product launches, Pressure BioSciences has emphasized the creation of innovative and critical laboratory products that can provide cost and time efficiencies for researchers as well as that enable new types of research. To this end, the benefits of the adoption and use of the Company's technology were highlighted at ASMS's 62nd Annual Conference. During the June 2014 conference, PCT-based sample preparation methods were featured in eight presentations from six separate research groups, covering cancer, tissue biopsy, archival samples, and food-borne pathogen studies. Study data indicated that using Pressure BioSciences' patented PCT platform in the preparation of samples for analysis resulted in critically enabling quality and/or improved time or cost efficiency of test results.
Pressure BioSciences also continues to pursue strategic relationships using its proprietary PCT technology and products. The company began collaborating with Parabase Genomics in July 2014 for the development of a PCT-based, front-end, sample preparation method for Parabase's neonatal diagnostics platform, which simultaneously evaluates 350 genes to improve early diagnosis of genetic diseases in newborns.
Financial Highlights Covered in the Quarterly Update
For the six months ended June 30, 2014, Pressure BioSciences reported record products and services revenue compared to any prior half-year period. The Company reported total revenues of $711,611 for the first half of 2014, which was driven by products and services sales rather than grant revenue.
For the second quarter 2014 and first half of 2014, Pressure BioSciences reported a 56% and 70% increase, respectively, on its products and services revenue compared to the same periods in 2013, though grant revenue declined for both timeframes. Sales of the Company's consumables products increased 86% in the second quarter 2014 and 93% in the first half of 2014 versus the year-ago periods.
Pressure BioSciences reported a net loss of $720,789, or ($0.05) per share, for the second quarter 2014 versus a net loss of nearly $1.2 million, or ($0.10) per share, for the second quarter 2013.
* * * * * * * * * * *
for access to the latest research, news, and stock
information on Pressure BioSciences, Inc.
* * * * * * * * * * *