This morning, we released a new 60-page Executive Informational Overview (EIO) on legendary car manufacturer, Saleen Automotive, Inc. (SLNN-OTC). Saleen designs and manufactures mass customized American sports cars, supercars, and race cars. The Company has also recently entered the electric vehicle (EV) market.
Saleen's primary product line entails high-performance cars built from the base chassis of Ford Mustangs, Chevrolet Camaros, and Dodge Challengers, with an expected summer 2014 launch of a Saleen EV built on the chassis of Consumer Reports' 2014 car of the year, the Tesla Model S. The Company also plans to launch a new supercar within the next two years to compete against exotic imports. Saleen's first supercar, the Saleen S7, was built entirely by the Company from initial design concepts to finished production and sale within nine months, and a race-tuned edition went on to win 78 races, including 10 championships and the 2010 24 Hours of Le Mans.
Saleen 302 SA-30 Mustang in Pearl White

Key Points About Saleen's Business and Markets Today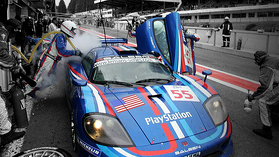 Saleen S7R (dated 2006 in Spa, Belgium)
The global automotive market is valued at over $4 trillion. The largest national market for vehicles is China, followed by the U.S. where 15.6 million cars and trucks were sold in 2013—a nearly 8% increase over 2012.

In 2013, the U.S. automotive industry had its best year since 2007, and is forecast to expand by another 4.9% during 2014. Sales of premium and high-performance vehicles drove U.S. market growth in 2013, with many low-volume luxury manufacturers selling every car they produced or imported during the year, spurred on by stronger economic conditions among other factors.

In March 2014, Saleen entered into an agreement with GreenTech Automotive, Inc. for distribution of the entire line of Saleen vehicles in China. In addition to sales of its vehicles in the U.S. through franchised Ford, Dodge, and Chevrolet dealerships, the Company is also working to open Saleen retail stores in the U.S. for the sale, installation, and demonstration of its performance parts and vehicles.

Saleen holds a competitive advantage in rapidly bringing new automotive products to market versus other specialty car companies in part due to its experience certifying vehicles for sale through Ford, Dodge, and Chevrolet dealers. This can be a complex process due to federal safety and emissions laws and evolving fuel efficiency standards.

The Saleen S7 was featured in DreamWorks' March 2014 film, Need for Speed starring Breaking Bad's Aaron Paul. The Company also built camera cars used by the crew to keep pace with the movie's supercars. Saleen's relationship with DreamWorks has previously included producing cars for the roles of "Bumblebee" and "Barricade" in Transformers (2007).

The Company is led by founder and CEO, Mr. Steve Saleen, who has over 30 years of expertise in the manufacture and distribution of high-performance vehicles. As of December 31, 2013, Saleen held cash of $10,840, subsequently raising over $3.2 million to date in 2014. The Company seeks to raise $15 million.
For a more detailed but quick overview of the Company, key points on Saleen are continued here.
**********************************************************
For a comprehensive description of the new Saleen Automotive structure, vehicle production, new releases, and strategies for expansion both in the U.S. and overseas, download a copy of our EIO on Saleen available here. The EIO also discusses the Company's financial position, competiton, intellectual property, leadership, risks, and many other important aspects to consider when evaluating the business of Saleen.
**********************************************************