NEW RESEARCH: Updated Executive Informational Overview for AtheroNova Inc. (AHRO)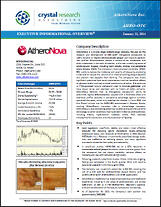 We released a new report today--an Updated Executive Informational Overview--on AtheroNova Inc. (AHRO-OTC). AtheroNova is a clinical-stage biotechnology company focused on the research and development of bile acid therapeutic compounds to safely dissolve or regress atherosclerotic plaque and improve patients' lipid profiles. Atherosclerotic plaque, a buildup of fat, cholesterol, and other substances in the walls of arteries, is the main underlying cause of cardiovascular disease, including heart attacks, strokes, and peripheral artery disease (PAD).
The Company's most advanced candidate, AHRO-001, works to reduce the incidence and severity of plaque by employing a bile acid to reduce the volume of or stabilize existing plaque deposits and prevent new deposits from forming. The compound also shows significant preclinical lipid panel improvement and has beneficial effects on glucose levels involving multiple mechanisms of action.
Bile acids are an FDA-approved natural compound used to dissolve gallstones, and have shown to be well tolerated with no history of safety concerns. AtheroNova believes that its therapeutic compound's ability to potentially regress atherosclerosis, coupled with a favorable safety and tolerance profile, provides a competitive advantage against currently approved therapies, which only stabilize the disease. In June 2013, the first Phase I clinical trial for AHRO-001 commenced in Moscow, Russia, marking AtheroNova's transition into a clinical-stage company. AtheroNova is also conducting preclinical studies to expand the use of its technology to other conditions that have been linked to atherosclerosis, including obesity, hypertension, diabetes, stroke, PAD, localized transdermal fat dissolution, and the dissolution of lipomas.
Key Points from the Executive Informational Overview
Lipid regulators, specifically statins, are today's most effective products for reducing serum cholesterol levels—achieving blockbuster status with revenues of $33.6 billion in 2012 (Source: IMS Health, Inc.). However, at commonly prescribed dosage levels, they are ineffective at reducing plaque, and carry significant drawbacks related to their safety and tolerability.

In preclinical studies, AHRO-001 led to a 95% reduction in innominate arterial plaque formation versus a control group. Also, the compound has not shown morbidity, adverse effects, or mortality and was well tolerated at high doses.

Following successful preclinical studies, Phase I trials are ongoing. Dosing was completed in the fourth quarter 2013, with top-line datato be available in the first quarter 2014.

The Company was issued U.S. patent No. 8,304,383, covering the use of a bile acid for atherosclerotic plaque lesions, and has patents pending for atherosclerosis and other applications.

AtheroNova's leadership has broad pharmaceutical and healthcare experience, including in the areas of atherosclerosis and clinical operations, as well as in the development, regulatory approval, and commercialization of therapeutic compounds and devices.

As of September 30, 2013, the Company's cash position was approximately $860,000.

****************************
Visit AtheroNova's Corporate Profile by Crystal Research Associates to download AtheroNova's past investor-targeted research products, which offer detailed summaries of the Company and overview product development, market opportunities, competition, growth strategies, milestones, and more.
****************************