Showroom Now Open in Shanghai
Saleen Automotive Inc. (SLNN-OTC) reported today that the Saleen brand opened its first international showroom in Shanghai, China. The elegant showroom is located in the upscale Jing An District in Shanghai and will not only assist in broadening the Saleen experience but also furthering the brand.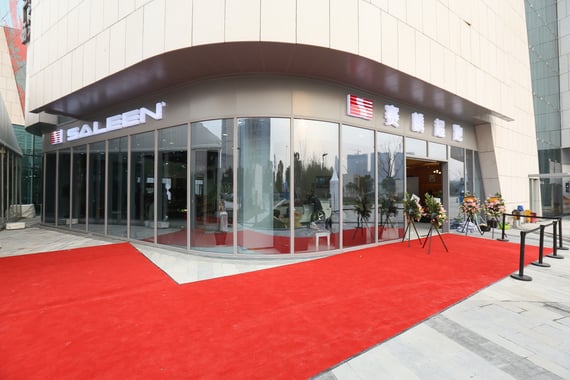 The opening of the Shanghai Showroom is the recent result of an agreement formed between Saleen and Saleen Motors International ("SMI"), an affiliate of GreenTech Automotive and licensee of the Saleen Brand in Asia.
The store will have Saleen vehicles, parts, and accessories on the showroom floor, which will allow potential buyers to see, touch, and buy Saleen. "This is an exciting opportunity for the Saleen brand," remarked Steve Saleen. "We have fans all over the world, but this will give us a whole new customer base and the opportunity to expand the Saleen experience." Mr. Charles Wang, Chairman and CEO of GTA, stated that,
"Saleen has been the icon of American high performance cars. Its advanced powertrain technologies and aerodynamics will surely bring an exciting alternative choice for Chinese high performance car enthusiasts. The rapid expansion of Saleen's customer base in China has not only made the legendary Saleen cars available to the vast Chinese market, but also increased manufacturing jobs in our production facility in Tunica, Mississippi. What a great win-win for both countries."
For more information regarding this matter, Saleen can be reached at pr@saleen.com. For investor questions, please email ir@saleen.com.
About Saleen Automotive, Inc.
Saleen is an American specialty manufacturer of high performance vehicles, technical performance parts, lifestyle accessories and apparel. Founder Steve Saleen has continually set the bar for automotive design and performance engineering in both street and racing applications. Saleen plans to utilize its existing strategic partnerships and dealer network to refine its design and engineering prowess, continue development of emerging automotive technologies, and expand its presence nationwide with a combination of automotive retail services, aftermarket parts and new vehicle sales to build significant long-term value. Learn more at www.saleenautomotive.com.
About GreenTech Automotive
GreenTech Automotive ("GTA") is a United States based automotive manufacturer. GTA's core values encompass the use of energy-efficient technology, producing affordable vehicles, and creating jobs in the United States. GTA currently manufactures all of its products in its production facility located in Tunica, Mississippi. For more information, please visit www.wmgta.com.
Safe Harbor Statement
This release contains "forward-looking statements" that include information relating to future events and future financial and operating performance. The words "may," "would," "will," "expect," "estimate," "can," "believe," "potential" and similar expressions and variations thereof are intended to identify forward-looking statements. Forward-looking statements should not be read as a guarantee of future performance or results, and will not necessarily be accurate indications of the times at, or by, which that performance or those results will be achieved. Forward-looking statements are based on information available at the time they are made and/or management's good faith belief as of that time with respect to future events, and are subject to risks and uncertainties that could cause actual performance or results to differ materially from those expressed in or suggested by the forward-looking statements. Important factors that could cause these differences include, but are not limited to: fluctuations in demand for Saleen Automotive's products, the introduction of new products, the Company's ability to maintain customer and strategic business relationships, the impact of competitive products and pricing, growth in targeted markets, the adequacy of the Company's liquidity and financial strength to support its growth, and other information that may be detailed from time-to-time in Saleen Automotive's filings with the United States Securities and Exchange Commission. Examples of such forward looking statements in this release include statements regarding product offerings and marketing. For a more detailed description of the risk factors and uncertainties affecting Saleen Automotive, please refer to the Company's recent Securities and Exchange Commission filings, which are available at www.sec.gov. Saleen Automotive undertakes no obligation to publicly update or revise any forward-looking statements, whether as a result of new information, future events or otherwise.
***************************************************
For details of Saleen's muscle car heritage, production, and growth plans, as well as a discussion of the automotive market and fuel-efficiency trends, download our Executive Informational Overview on Saleen or visit our Key Points summary of the company.
***************************************************