Up to 80% of colorectal biopsies performed are subsequently identified as normal, non-cancerous tissue. Incorporating an optical biopsy, such as WavSTAT4, before performing an invasive physical biopsy reduces risks to patients by eliminating many unnecessary procedures and may lead to a healthcare cost savings of over $1 billion in the U.S. alone.

SpectraScience is working to diagnose "pre-cancers"—suspect tissue or areas in the body before it becomes cancerous. Tissue that WavSTAT4 finds to be precancerous (or cancerous) returns a red "suspect" icon. Unlike the traditional method of visual inspection, there is no ambiguity to the result and no need for physician interpretation.

Major 2016 corporate developments include a strategic acquisition, research publication, and development of an international sales infrastructure enabling the start of device sales in the Middle East.

SpectraScience, Inc. (San Diego, California; SCIE) is advancing a novel technology toward commercialization that has shown to improve physicians' and oncologists' diagnostic capabilities, while lowering the cost of diagnosis and minimizing the number of invasive biopsies performed on patients. The company's lead product platform is the WavSTAT4 Optical Biopsy System, which holds a CE Mark in the European Union for use in detection of all cancer types and has received regulatory approval in Saudi Arabia. An earlier version of the technology platform was cleared for sale in the U.S. as a medical device to aid in endoscopic screening of the colon (to identify colorectal cancer and precancerous conditions). Upon making significant enhancements to the product's software and user interface, SpectraScience is working to file an updated Premarket Approval (PMA) application in the U.S.
In the past year since Crystal Research Associates published a 48-page Executive Informational Overview (EIO) on SpectraScience (available for download here), the diagnostics company has made several key announcements:
Study Published Confirming Accuracy of WavSTAT4,
A New Product Introduction,
Acquisition of Assets of Oncoscope, Inc., and
Development of the Middle East Market.
What is the WavSTAT4 Optical Biopsy System?
SpectraScience's initial target application of WavSTAT4 is the colorectal cancer screening market, for which the device has been designed to overcome limitations in current screening methods. Clinical results further suggest potential in bladder cancer as well as in other oncology indications.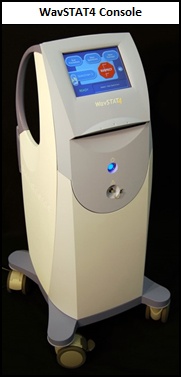 The WavSTAT4 platform uses an established light-based technology, called laser-induced fluorescence spectroscopy (LIFS), for the differentiation of normal, precancerous, or cancerous tissues in the lower gastrointestinal tract. The technology enables the real-time diagnosis of precancerous colon polyps (under 5 mm in size) during colonoscopy, without requiring that the physician physically biopsy the abnormal tissue and send it to a pathology lab for analysis. WavSTAT4's algorithm is capable of performing pathologic analysis onboard the system and displaying immediate results for physicians on screen as they move the endoscope over the suspect colorectal tissue.
The real benefit of WavSTAT4 stems from aiding physicians' own visual determinations of whether a diminutive polyp (under 5 mm) should be removed from a patient or not. Large polyps are removed as a matter of standard practice, as the larger the polyp, the greater the risk of it becoming cancerous. However, smaller polyps are found in approximately half of adults undergoing colorectal screening (Source: Gastrointestinal Endoscopy, 2011, 73(3):419–421); yet macroscopic differentiation between a hyperplastic (benign) and an adenomatous (precancerous) polyp during colonoscopy is notably difficult (Source: the UK's National Institute for Health Research [NIHR] Horizon Scanning Centre, University of Birmingham, Technology Alert, February 2015). Diminutive polyps are very rarely malignant (Source: Gastroenterology Hepatology, 2012, 8(2): 128–130), and it has been estimated that pathologists find up to 80% of tissue removed during colonoscopies to be just normal tissue.
As a result, the standard of care for colonoscopies has been revised to account for the benefits of not removing every diminutive polyp observed in the colon or rectum. Colorectal cancer screening guidelines from the American Society for Gastrointestinal Endoscopy (ASGE) now state that polyps under 5 mm in size that are believed to be hyperplastic (normal tissue) can be left in the patient and do not need to be removed if the diagnostic technology in use provides a greater than 90% negative predictive value (NPV) when used with high confidence for adenomatous histology (Source: Gastrointestinal Endoscopy, 2011, 73(3):419–421). Importantly, a study of WavSTAT4 conducted by Dr. Helmut Neumann, a professor of molecular endoscopy and interventional endoscopy, and a specialist in internal medicine and gastroenterology at the Department of Medicine at Germany's University of Erlangen-Nuremberg, found that adding SpectraScience's technology to the screening colonoscopy procedure could increase the colonoscopy's NPV to 96%—well above the 90% NPV threshold recommended under PIVI guidelines (Source: Gastrointestinal Endoscopy, 2013, 77(5S):AB463). Similar data showing a 95.4% NPV in diminutive colorectal polyps (and up to an NPV of 98% in distal colorectal diminutive polyps) was presented at Digestive Disease Week held in Washington, D.C. during May 2015 (Source: Gastrointestinal Endoscopy, May 2015, Vol. 81, Issue 5, Supplement, Page AB158).
WavSTAT4 has been designed for ease of integration into the current standard of care. It entails essentially the same process as how physicians screen for cancer today, and is compatible with existing endoscopes. SpectraScience adds a layer of diagnostic confidence by notifying physicians that, at a particular tissue location, they do not need to take a physical biopsy that they otherwise might have performed.
Recent Milestones
Research Publication
In April 2016, peer-reviewed research confirming the diagnostic accuracy of WavSTAT4 was published in Endoscopy. The paper was authored by Drs. Timo Rath, Gian Tontine, Michael Vieth, Andreas Nagel, Markud Neurath, and Professor Helmut Neumann of the University of Erlangen, who found that the WavSTAT4 system exceeded the clinical guidelines adopted by EU and U.S. medical societies for the diagnosis of small and diminutive colorectal polyps during screening colonoscopies. This is the publication of the primary supporting data for WavSTAT4 that determined the system had a NPV of over 96%.
An excerpt from the paper's abstract reads
"The overall accuracy of LIFS using WavSTAT4 for predicting polyp histology was 84.7 % with sensitivity, specificity, and negative predictive value (NPV) of 81.8 %, 85.2 %, and 96.1 %. When only distal colorectal diminutive polyps were considered, the NPV for excluding adenomatous histology increased to 100 % (accuracy 82.4 %, sensitivity 100 %, specificity 80.6 %). On-site, LIFS correctly predicted the recommended surveillance intervals with an accuracy of 88.9 % (24/27 patients) when compared with histology-based United States guideline recommendations; in the 3 patients for whom LIFS- and histopathology-based recommended surveillance intervals differed, LIFS predicted shorter surveillance intervals."
Based on those results, the study's authors concluded that WavSTAT4 appeared accurate enough to allow distal colorectal polyps to be left in place, which could greatly reduce the costs and risks associated with the removal of diminutive colorectal polyps.
New Product Introduction
In February 2016, SpectraScience announced that would begin commercial development of a new "rack-mounted" WavSTAT light and processor unit. This unit is designed to fit in the same rack currently holding the endoscopic light source and processor, and has the same components and same capabilities as the mobile WavSTAT4 in a smaller, more compact form. Further, it is expected to use the same disposable optical biopsy forceps as the current mobile console. The company reports that early feedback on the new design has been positive, particularly as the device will likely now function even more harmoniously with hospitals' current endoscopy setups regardless of manufacturer.
Opening the Middle East
SpectraScience has engaged a sales group for the Middle East and has begun training physicians in Kuwait on the use of the WavSTAT4 platform. In January 2016, the company demonstrated its product at the Arab Health Conference in at the Dubai International Convention and Exhibition Centre, which is believed to be the largest conference of its kind in the Middle East and the second largest medical device conference in the world. SpectraScience is now working to finalize its distribution processes and scale up to support sales in this region.
Strategic Acquisition
Also in 2016, SpectraScience closed on its purchase of the assets of medical imaging company Oncoscope, Inc. (Durham, North Carolina). OncoScope had also developed an optical biopsy platform to help physicians accurately and instantly identify dysplastic or precancerous tissue for biopsy, specifically in the esophagus. Its device is based on Angle-resolved Low Coherence Interferometry (a/LCI) imaging technology, which uses the properties of scattered light to measure the average size of cell structures, including cell nuclei. OncoScope held exclusive worldwide license rights from Duke University to the a/LCI optical imaging technology. Importantly, SpectraScience has acquired this exclusive license for the underlying technology from Duke.
Speaking to SNNLive at the Growth Capital Expo 2016 in Las Vegas, SpectraScience President and CEO Michael Oliver stated:
"We acquired the assets of a small company in a space adjacent to ours. What they had was a prototype product for diagnosing cancer in a condition known as Barrett's esophagus. SpectraScience is targeting the lower GI. This product in the upper GI could save the company up to a year or a year and half in product development."
SpectraScience has always viewed the esophageal screening market as an additional opportunity, as endoscopes are the typical diagnostic tool of choice for both colorectal and esophageal screening. The company believes that with a solution for diagnosis of cancer in the upper GI (esophagus) as well as the lower GI (colorectal), it may be able to more efficiently utilize its manufacturing capabilities as well as leverage the sales channel to gastroenterologists.
A rare cancer called esophageal adenocarcinoma may develop in people who have Barrett's esophagus, wherein the lining of the esophagus is atypical and contains tissue similar to intestinal tissue. Barrett's esophagus is estimated to affect 1.6% to 6.8% of people, and men more often than women (Source: the National Institute of Diabetes and Digestive and Kidney Diseases). A person's risk of developing Barrett's esophagus is increased by the presence of gastroesophageal reflux disease (GERD), which is more commonly understood as acid reflux or chronic heartburn.
Barrett's esophagus may take many years to develop into esophageal cancer, but before it does, it usually displays precancerous cells or dysplasia in the Barrett's tissue. As in colorectal screenings, physicians diagnose Barrett's esophagus and any ensuing cancer using a GI endoscopy with biopsy. This procedure poses the same risks as colorectal cancer endoscopy: physicians' random sampling of tissue may miss precancerous or cancerous spots, and having to take multiple biopsies of the esophageal tissue is highly invasive and could lead to bleeding or perforation. The NIDDK states that physicians must biopsy at least eight areas of the esophagus (SpectraScience estimates based on the Company's research that the number of physical biopsies performed during the same esophageal endoscopy is in reality as high as 20) due to the difficulty of finding and diagnosing dysplasia in Barrett's tissue, which does not reflect all the tissue in the esophagus.
Esophageal endoscopies are performed for patients who have GERD (to look for the development of Barrett's esophagus), for patients who have been diagnosed with Barrett's esophagus (to monitor progression to a precancerous dysplasia on an annual basis), and for patients who have shown dysplasia (to check for cancer every three to six months, depending on the grade of dysplasia). As with any cancer, early detection of precancerous esophageal conditions can significantly improve patients' quality of life and prognosis.
Potential Milestones
Over the next 12 months, SpectraScience has stated that it strives to achieve the goals and objectives summarized below.
Market and sell the WavSTAT4 Optical Biopsy System colon cancer diagnostic application through PENTAX and other distribution channels in the EU

Conduct country-specific evaluation trials to demonstrate the effectiveness and cost benefit of the WavSTAT4 Optical Biopsy System in each relevant European jurisdiction

Coordinate the creation and publication of scientific papers and presentations related to the country-specific evaluation trials to support widespread education and adoption of the WavSTAT4

Pursue the introduction of the WavSTAT4 colon cancer application in other international markets, in particular China, Saudi Arabia, and India

Begin meeting with the FDA toward the preparation and submission of a Supplemental PMA filing with the FDA and plan for additional clinical trials to support eventual approval for sale in the U.S.

Begin the design and planning for the next generation of multi-modal fluorescence and broadband spectroscopy systems at the company's facility in San Diego, California

Continue to expand and refine its intellectual property portfolio
SpectraScience's patent portfolio in the field of optical methods to detect cancer, cancer precursors, and tissue abnormalities includes 34 U.S. utility patents, seven U.S. design patents, 25 foreign counterpart patents, and an exclusive license to the Massachusetts General Hospital's optical forceps patent. Moreover, the company's leadership has extensive experience in the medical device industry, specifically in the areas of strategic management, engineering, manufacturing, global sales, and marketing.
Additionally, SpectraScience maintains a non-exclusive distribution agreement with PENTAX Europe GmBH for the sale of WavSTAT4 in international markets. Product manufacturing occurs at both SpectraScience's California headquarters as well as through U.S. OEMs, with final assembly performed by SpectraScience. The company reports that the FDA has reviewed its manufacturing processes and Standard Operating Procedures and that SpectraScience is authorized to manufacture the equipment and holds ISO 9001 equivalent and other global quality certifications.
Impacts and Opportunities in Colorectal Cancer Screening
A study published in Endoscopy in 2011 found that being able to avoid performing pathologic laboratory assessment on diminutive colorectal polyps would lead to a savings in healthcare costs of over $1 billion in the U.S. alone. It would further alleviate strain on overburdened pathologists by removing normal colorectal tissue from the queue and ensuring that the tissue examined by pathologists is truly tissue of consequence, in that it is likely to be precancerous or cancerous. Moreover, physical biopsies have known risks to patients of bleeding and perforation, which could be reduced by minimizing unnecessary biopsies. Thus, the WavSTAT4 optical biopsy (rather than a laboratory biopsy) may have an important position in the colorectal cancer screening market.
The preferred method of screening for colorectal cancer today is a colonoscopy (Source: American Journal of Gastroenterology 2009; 104:739–750), which the U.S. Preventive Services Task Force (USPSTF) as well as many European agencies recommend that every adult between the ages of 50 and 75 undergo at least every 10 years. Colonoscopies may be more frequent for patients displaying risk factors for colorectal cancer or who have previously been identified as having colorectal polyps or other dysplasia (abnormal tissue). Improving screening programs for colorectal cancer is an important initiative worldwide. In the U.S., where colorectal cancer is the third most common cancer but the second-leading cause of cancer-related death, the National Colorectal Cancer Roundtable (NCCR) has recently undertaken an initiative called "80% by 2018" aiming for screening rates of 80% of the at-risk population by 2018.
In Europe, colorectal cancer is the second most common cancer as well as the second-leading cause of cancer-related death. Due in part to insufficient screening processes, the mortality rate of colorectal cancer remains high globally, with this tumor type accounting for 8.5% of all cancer-related deaths worldwide. Without improvements to the screening and diagnostics processes, this figure will likely continue to increase, as colorectal tumors are far more prevalent in older adults (over age 50)—a population group that is dramatically increasing in number (Source: World Population Ageing 2009 from the United Nations' Department of Economic and Social Affairs, Population Division). To this end, World Cancer Research Fund International predicts that there could be 2.4 million cases of colorectal cancer diagnosed annually worldwide by 2035—an increase of one million more patients each year over current rates.
*******************************************
information, including the latest research and headlines,
on SpectraScience, Inc. (SCIE-OTC).
*******************************************