Investment Highlights for

Ceapro Inc.

Ceapro Inc.
7824 – 51 Avenue
Edmonton, AB T6E 6W2, Canada
Phone: (780) 421-4555
Fax: (780) 421-1320
www.ceapro.com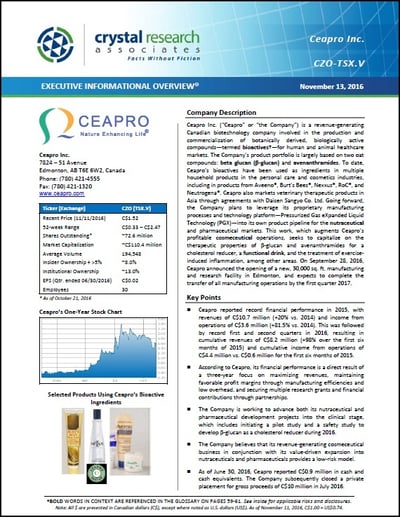 20 Investment Highlights for Ceapro Inc. (CZO-TSX.V)
Ceapro is a biotechnology company involved in the identification, extraction, bioprocessing, and commercialization of functionally bioactive compounds from botanical and other renewable plant resources. The Company's focus is on the production and commercialization of its proprietary active ingredients for the cosmeceutical, nutraceutical, and pharmaceutical markets.


The global market for botanical and plant-derived drugs was valued at US$25.6 billion in 2015 and is expected to reach US$35.4 billion by 2020. Growth drivers include drug companies increasingly adopting a business model that includes development of botanical and plant-derived compounds and rising consumer interest in natural health remedies.


Ceapro's products are primarily based on two bioactive compounds derived from oat: β-glucan and avenanthramides. The common oat is a species of cereal grain mainly grown for its use in oatmeal (for human consumption) as well as for livestock feed. Oat has always been regarded as a health-promoting food and has been used for more than 4,000 years in traditional medicine.


β-glucan is found in oats, barley, certain mushrooms, yeasts, seaweed, and algae. Importantly, oat-derived β-glucan is believed to be the only type that is water soluble, which makes it particularly useful in the development of therapeutic and bioactive agents. Consumption of β-glucan helps to reduce an individual's risk of heart disease by lowering cholesterol. It is also good for skin care, as the compound is a moisturizer, has antioxidant activity, and reduces the impact of wrinkles and ultraviolet (UV) light.


Avenanthramides are a group of phenolic alkaloids found mainly in oats that are known for their anti-inflammatory, antioxidant, anti-itch, and many other beneficial health impacts.


In addition to Ceapro's oat-based β-glucan and avenanthramide bioactives, the Company markets several other plant-derived oils, flours, and peptides. All of these products are currently employed as the active botanical ingredients in personal care products sold by major players in the cosmetics/cosmeceuticals industry, including Aveeno®, Burt's Bees®, Nexxus®, RoC®, and Neutrogena®.


Cosmeceuticals—cosmetic products with medicinal benefits that can be purchased over-the-counter—are expected to be the fastest growth segment in the personal care industry, with a global value of US$61 billion by 2020. The growth is driven by technological innovations, the emergence of new ingredients, and increasing consumer confidence in new products. This market is roughly 62% skin care products and 15% hair care.


Partly as a result of its "Better for Heart Health" labeling approved by the FDA, EMEA, and Health Canada, global demand for β-glucan specifically may be US$321 million in 2016, up from US$282 million in 2014. Growth is forecasted at over 6% annually between 2015 and 2025. Oat-derived β-glucan accounts for 69.3% of this market.


Ceapro has developed a vertically integrated value chain whereby the Company controls its operations from field to formulation to market. The process combines Ceapro's ability to isolate and purify specific molecules from a wide range of botanical sources with its bioprocessing expertise as well as its proprietary plant extraction-based manufacturing process and drying technology—all of which is intended to enable Ceapro to drive product development from concept to commercialization in a relatively short time period.


While generating revenue through the sale of its cosmeceutical ingredients, Ceapro is simultaneously advancing the development of its bioactives in novel nutraceutical and pharmaceutical preparations—a move intended to broaden the Company's customer base to include these additional large healthcare markets.


One of the Company's core competitive advantages is its use of a proprietary enabling technology for processing water-soluble biopolymers, such as oat β-glucan. The platform—called Pressurized Gas eXpanded Liquid Technology (PGX)—is an innovative method of spray drying that enables the Company to produce a wide range of morphologies, including granular powder, aerogels, and highly porous materials.


Using PGX, Ceapro has produced a highly pure, powder form of its β-glucan to facilitate entry into the nutraceutical market. In addition, PGX allows for the production of ultra-light, porous polymer structures that can be impregnated or coated with other active compounds in order to generate new ingredients for use in cosmetic, nutraceutical, or pharmaceutical products. This capability is at the center of the Company's ability to expand beyond the cosmetic industry.


In the fourth quarter 2016, the Company plans to initiate a 12-month pilot study to develop β-glucan as a cholesterol reducer. At the same time, Ceapro also plans to conduct a 10-month safety study to analyze the side effect profile of highly pure, oral β-glucan.


Ceapro has also initiated a study with the University of Alberta to develop a prototype formulation for a functional drink, which the Company anticipates to be completed by the end of 2016. This product prototype is based on Ceapro's ability to impregnate PGX-processed β-glucan with coenzyme Q10 (CoQ10), a substance in the body responsible for converting food to energy.


Ceapro's pharmaceutical development of avenanthramides is initially focused on treating exercise-induced inflammation. Ceapro provided material for a bioavailability study that was recently completed at the University of Minnesota's Laboratory of Physiological Hygiene and Exercise Science to examine the health impacts of long-term dietary supplementation using an oat flour cookie rich in avenanthramides. This research builds upon prior studies and support Ceapro's start of a bio-efficacy study with avenanthramides as an anti-inflammatory compound during the fourth quarter 2016.


The Company has strategic relationships with the Food Processing Development Centre (FPDC), the National Research Council of Canada's (NRC) Institute of Nutrisciences and Health (NRC-INH), and the Food Technology Centre (FTC), as well as has a research partnership with McMaster University, and has received grants and financing from Alberta Innovates Bio Solutions (AIBio) and the NRC-Industrial Research Assistance Program.


As well, Ceapro is led by individuals with expertise in natural product chemistry, microbiology, biochemistry, immunology, and process engineering. Isolating and purifying botanical bioactives (especially oat β-glucan) is extremely challenging but also vital, as the therapeutic properties and health benefits associated with such compounds are often defined by the isolation and preparation method. Ceapro's team has developed proprietary manufacturing and processing techniques, protected by global intellectual property.


To Ceapro's knowledge, its scientists were the first to discover the link between the traditional use of colloidal oatmeal for alleviating red, itchy, and inflamed skin and naturally occurring avenanthramides in oats. To date, the Company remains the only commercial manufacturer of natural, pure avenanthramides and the sole producer of avenanthramide extracts at Ceapro's high concentrations.


As of June 30, 2016, the Company reported C$0.9 million in cash and cash equivalents, followed by a July 2016 brokered private placement for gross proceeds of C$10 million. For the six-month period ended June 30, 2016, the Company reported record revenues of C$8.2 million (+98% over the first six months of 2015) and operating income of C$4.4 million vs. C$0.6 million in the year-ago period. This follows the Company's 2015 record revenue (C$10.7 million, +20% vs. 2014) and operating income (C$3.6 million income, +81.5% vs. 2014).


On September 28, 2016, Ceapro announced the opening of a new, 30,000 sq. ft. manufacturing and research facility in Edmonton, Canada. This facility provides the Company with the ability to move from batch-to-batch production into semi-continuous production, potentially increasing manufacturing capabilities ten-fold. Production operations are expected to be maintained in parallel until the end of the first quarter 2017 to secure a smooth transition and ensure that product specifications are replicated.
Unlocking Visibility: Trusted Research by Wall Street Veterans