Investment Highlights for

Victory Square Technologies Inc.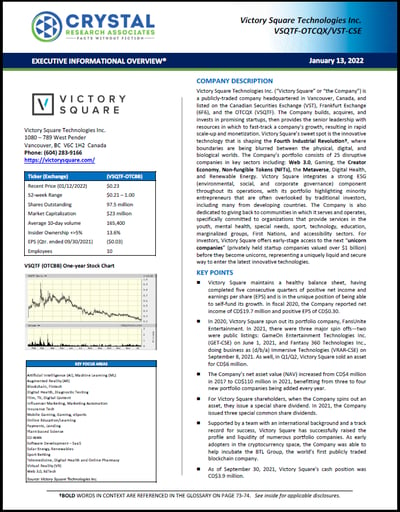 Investment Highlights for
Victory Square Technologies Inc.
(VSQTF-OTC, VST-CSE)

Victory Square Technologies Inc. is a technology accelerator with a diverse portfolio of 25 next generation technology companies within key sectors, including Web 3.0, Gaming, the Creator Economy, NFTs, the Metaverse, Digital Health, and Renewable Energy.


The Company has reported five consecutive quarters of positive net income and earnings per share (EPS), with net income of CD$19,733,031 and positive EPS of CD$0.30.


For shareholders of Victory Square, every time the Company spins out an asset, it issues a special share dividend. The Company issued three special common share dividends in 2021.


The Company's NAV increased from CD$4 million in 2017 to CD$110 million (unaudited) in 2021, benefitting from the approximately three to four new portfolio companies being added every year.


The Company expects to see value creation as its portfolio companies mature and spin out. In 2022, Victory Square is focused on getting Stardust Solar, Turnium, Copilot, and Creator.co public on their own as well as building new portfolio companies and assets into the mix.


Victory Square is also aiming for an up-listing to the TSX, estimated in the 2022 timeframe, to be followed by a NASDAQ listing in the U.S.


Portfolio company, Fantasy 360 Technologies Inc. d/b/a Immersive Technologies, was built by Victory Square internally as the Company believed in the AR/VR space several years ago. The company has worked with clients including Intel, Snickers, Bayer, Ardbeg, USFDA, Scotia Bank, and Capital One, among others. Immersive Technologies went public earlier this year and now has a market cap for approximately CD$40 million.


GameOn came into Victory Square's portfolio through an acquisition in December 2020 and went public in 2021, with a current market cap of approximately CD$25 million. The company is in the social gaming space, building social NFT games on the blockchain.


FansUnite is in the esports and sports betting space, having built a B2B product. This company came into Victory Square's portfolio in 2017 as one of the first due to acquisition, spun out last year, and has a current market cap of CD$123 million.


IV Hydreight was acquired in 2021 and is 100% owned by Victory Square. Within the med spa arena, the company offers on demand/on site health services. This was exceptionally beneficial during the pandemic since they had the technology infrastructure in place to be able to offer mobile health services, nursing services, IV drip, and other types of vaccinations, as well as COVID testing direct to home.


Within the Creator space, Creator.co is a portfolio company in which Victory Square expects to devote more of its focus for the next 12-plus months. With over 100,000 creators in their platform, the company has built a technology to connect brands with micro-influencers. The company is expected to allow creators to launch their own social tokens in the near future.


Within the solar space, Stardust Solar is expected to be spun out early Q1 2022.


Covalent has built a "Google" for the blockchain. The company came into Victory Square's portfolio through an investment in 2018, raising capital by issuing tokens ($10 million in 2021) with the CQT token.


Victory Square is focused on companies with technology that they believe will have asymmetrical returns in the near future, with anchor companies that are led brilliant boards and management teams.
Unlocking Visibility: Trusted Research by Wall Street Veterans