Investment Highlights

AIM ImmunoTech Inc.
formerly Hemispherx Biopharma, Inc.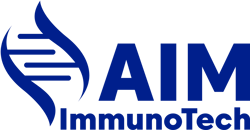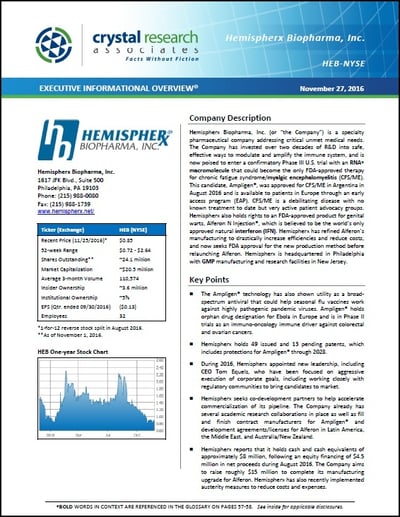 8 Investment Highlights for
AIM ImmunoTech Inc. (AIM-NYSE)

AIM ImmunoTech Inc. (formerly Hemispherx Biopharma, Inc.) is a specialty pharmaceutical company addressing critical unmet medical needs. The Company has invested over two decades of R&D into safe, effective ways to modulate and amplify the immune system, and is now poised to enter a confirmatory Phase III U.S. trial with an RNA macromolecule that could become the only FDA-approved therapy for chronic fatigue syndrome/myalgic encephalomyelitis (CFS/ME).


Ampligen® was approved for CFS/ME in Argentina in August 2016 and is available to patients in Europe through an early access program (EAP).


Hemispherx also holds rights to an FDA-approved product for genital warts, Alferon N Injection®, which is believed to be the world's only approved natural interferon (IFN).


The Ampligen® technology has also shown utility as a broad-spectrum antiviral that could help seasonal flu vaccines work against highly pathogenic pandemic viruses. Ampligen® holds orphan drug designation for Ebola in Europe and is in Phase II trials as an immuno-oncology immune driver against colorectal and ovarian cancers.


Hemispherx holds 49 issued and 13 pending patents, which includes protections for Ampligen® through 2028.


During 2016, Hemispherx appointed new leadership, including CEO Tom Equels, who have been focused on aggressive execution of corporate goals, including working closely with regulatory communities to bring candidates to market.


Hemispherx seeks co-development partners to help accelerate commercialization of its pipeline. The Company already has several academic research collaborations in place as well as fill and finish contract manufacturers for Ampligen® and development agreements/licenses for Alferon in Latin America, the Middle East, and Australia/New Zealand.


Hemispherx reports that it holds cash and cash equivalents of approximately $8 million, following an equity financing of $4.5 million in net proceeds during August 2016. The Company aims to raise roughly $15 million to complete its manufacturing upgrade for Alferon. Hemispherx has also recently implemented austerity measures to reduce costs and expenses.
Unlocking Visibility: Trusted Research by Wall Street Veterans