Investment Highlights for

Bioxytran, Inc.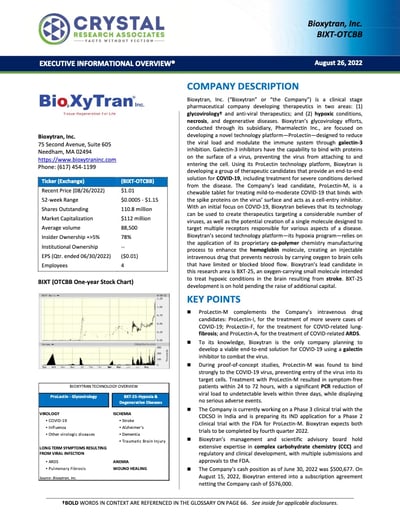 Investment Highlights for Bioxytran, Inc.
(BIXT-OTCBB)

Bioxytran, Inc. ("Bioxytran" or "the Company") is a clinical stage pharmaceutical company developing platform technologies in the fields of glycovirology, hypoxia, and degenerative diseases.

Using its platform technologies, the Company is initially developing therapeutics in two medical areas: (1) glycovirology and anti-viral therapeutics, with an initial focus on COVID-19; and (2) hypoxic conditions and necrosis, with an initial focus on brain conditions resulting from stroke.


Bioxytran's glycovirology efforts are conducted through its subsidiary, Pharmalectin Inc. Pharmalectin is developing a novel technology platform—ProLectin—designed to reduce the viral load and modulate the immune system using galectin inhibitors.

Galectin-3 inhibitors have the capability to bind with proteins on the virus surface, preventing the virus from attaching to a cell and entering the cell.


While the initial focus of the Company is the SARS-CoV-2 virus, Bioxytran believes that its technology can be used to create antiviral therapeutics targeting a considerable number of viral pathogens, as well as the potential creation of a multiple-antagonist single molecule that can target multiple biological pathways responsible for various aspects of a disease, such a single customized antiviral that can treat different viral conditions.


Using its ProLectin technology platform, Bioxytran is developing an end-to-end solution for COVID-19, including treatment for severe conditions derived from the disease.

The Company's lead candidate, ProLectin-M, is a chewable tablet for the treatment of mild-to-moderate COVID-19, which binds with proteins on the virus' surface and acts as cell-entry inhibitor.


ProLectin-M complements the Company's intravenous drug candidates:

ProLectin-I, for the treatment of severe cases of COVID-19; ProLectin-F, for the treatment for COVID-related lung-fibrosis; and ProLectin-A, for the treatment of COVID-related Acute Respiratory Distress Symptom (ARDS).


To Bioxytran's knowledge, Pharmalectin is the only company using a galectin inhibitor to create an end-to-end viable solution to COVID-19.

The Company's pipeline candidates can block viral entry and act as an antiviral in the early stage of the disease, restore adaptive immune function to help eradicate the virus and prevent progress to severe disease, and can interrupt the process leading to the cytokine storm believed to be responsible for many of the fatal cases of the disease and treat COVID-related lung fibrosis.


During proof-of-concept studies, ProLectin-M was found to bind strongly to the COVID-19 virus, preventing entry of the virus into its target cells.

Treatment with ProLectin-M resulted on symptom-free patients within 24 to 72 hours, with a significant reduction of viral load, completely eliminated in 5 to 7 days, while displaying no serious adverse events.


The Company is currently working on a Phase 3 clinical trial with the CDCSO in India and is preparing its IND application for a Phase 2 clinical trial with the FDA for ProLectin-M.

The Company is also preparing a Phase 1/2 trial on fibrosis of the lung in India using ProLectin-F. Bioxytran expects all three trials to be completed by the fourth quarter 2022.


Bioxytran's second technology platform—its hypoxia program—relies on the application of its proprietary co-polymer chemistry manufacturing process to enhance the hemoglobin molecule, creating an injectable drug that prevents necrosis by carrying oxygen to brain cells that have limited or blocked blood flow.
Bioxytran's lead candidate in this research area is BXT-25, an oxygen-carrying small molecule intended to treat hypoxic conditions in the brain resulting from stroke.

BXT-25 development is on hold pending additional capital being raised. Once funding is obtained, Bioxytran plans to begin pre-clinical studies for this indication.


The BXT-25 molecule is designed to be 5,000 times smaller than a red blood cell (RBC), enabling the therapeutic molecule to transport oxygen through blocked arteries and into oxygen-deprived tissue more effectively than RBCs.

The Company believes that BXT-25 is non-immunogenic, universally compatible with all blood types, and is recognized by the blood-brain barrier (BBB)—allowing it to deliver oxygen to the brain.


Additionally, Bioxytran has an exclusive license for an FDA-cleared companion diagnostic—MDXViewer—that allows the Company to detect oxygen delivery to brain tissue in real-time, providing a clinical endpoint to support BTX-25 clinical trials.

To the Company's knowledge, the diagnostic device is the only technology cleared by the FDA that allows for measurement of oxygenation of a specific tissue, as opposed to measurements of arterial oxygen levels.
The Company's management and scientific advisory team holds extensive expertise in complex carbohydrate chemistry (CCC) and regulatory and clinical development, with multiple submissions and approvals to the FDA.
The Company's cash position as of June 30, 2022, was $500,677.

On August 15, 2022, Bioxytran entered into a subscription agreement for the issuance of 1,400,000 shares of the Company's Common Stock, resulting in the Company receiving net cash in the amount of $576,000.
Unlocking Visibility: Trusted Research by Wall Street Veterans