An Executive Informational Overview (EIO) is now available on Bioxytran, Inc., a clinical stage pharmaceutical company developing therapeutics in two areas: (1) glycovirology and anti-viral therapeutics; and (2) hypoxic conditions, necrosis, and degenerative diseases. The 70-page report details the Company's business, its strategy, market opportunities, competition, financials, risks, and more. It is available for download below.
Snapshot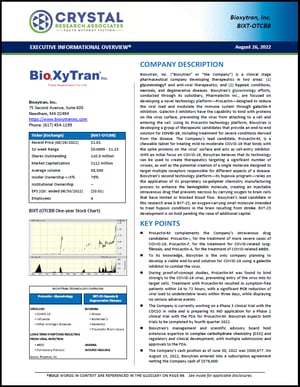 Bioxytran, Inc. ("Bioxytran" or "the Company") is a clinical stage pharmaceutical company developing therapeutics in two areas: (1) glycovirology and anti-viral therapeutics; and (2) hypoxic conditions, necrosis, and degenerative diseases. Bioxytran's glycovirology efforts, conducted through its subsidiary, Pharmalectin Inc., are focused on developing a novel technology platform—ProLectin—designed to reduce the viral load and modulate the immune system through galectin-3 inhibition. Galectin-3 inhibitors have the capability to bind with proteins on the surface of a virus, preventing the virus from attaching to and entering the cell.

Using its ProLectin technology platform, Bioxytran is developing a group of therapeutic candidates that provide an end-to-end solution for COVID-19, including treatment for severe conditions derived from the disease. The Company's lead candidate, ProLectin-M, is a chewable tablet for treating mild-to-moderate COVID-19 that binds with the spike proteins on the virus' surface and acts as a cell-entry inhibitor. With an initial focus on COVID-19, Bioxytran believes that its technology can be used to create therapeutics targeting a considerable number of viruses, as well as the potential creation of a single molecule designed to target multiple receptors responsible for various aspects of a disease.

Bioxytran's second technology platform—its hypoxia program—relies on the application of its proprietary co-polymer chemistry manufacturing process to enhance the hemoglobin molecule, creating an injectable intravenous drug that prevents necrosis by carrying oxygen to brain cells that have limited or blocked blood flow. Bioxytran's lead candidate in this research area is BXT-25, an oxygen-carrying small molecule intended to treat hypoxic conditions in the brain resulting from stroke. BXT-25 development is on hold pending the raise of additional capital.
Key Points of Bioxytran, Inc.
ProLectin-M complements the Company's intravenous drug candidates: ProLectin-I, for the treatment of more severe cases of COVID-19; ProLectin-F, for the treatment for COVID-related lung-fibrosis; and ProLectin-A, for the treatment of COVID-related ARDS.


To its knowledge, Bioxytran is the only company planning to develop a viable end-to-end solution for COVID-19 using a galectin inhibitor to combat the virus.


During proof-of-concept studies, ProLectin-M was found to bind strongly to the COVID-19 virus, preventing entry of the virus into its target cells. Treatment with ProLectin-M resulted in symptom-free patients within 24 to 72 hours, with a significant PCR reduction of viral load to undetectable levels within three days, while displaying no serious adverse events.


The Company is currently working on a Phase 3 clinical trial with the CDCSO in India and is preparing its IND application for a Phase 2 clinical trial with the FDA for ProLectin-M. Bioxytran expects both trials to be completed by fourth quarter 2022.


Bioxytran's management and scientific advisory board hold extensive expertise in complex carbohydrate chemistry (CCC) and regulatory and clinical development, with multiple submissions and approvals to the FDA.


The Company's cash position as of June 30, 2022, was $500,677. On August 15, 2022, Bioxytran entered into a subscription agreement netting the Company cash of $576,000.
*******************************************
Visit our Corporate Profile and Investment Highlights pages
for the latest research on Bioxytran, Inc.
*******************************************