New research available in our library at www.crystalra.com gives readers a complete description of the business of AtheroNova: its product development, milestones, competitive pressures, market opportunities, risks, and more. A 52-page report is available here, with future Quarterly Updates coming as AtheroNova advances this year.
AtheroNova Inc. ("AtheroNova" or "the Company") is a biotechnology company focused on discovering, researching, developing, and licensing pharmaceuticals to reduce or eliminate atherosclerosis—a thickening of the arteries that occurs when fat, cholesterol, and other substances build up in the walls of the arteries and form hardened structures called plaque deposits. AtheroNova is researching patent-pending applications of bile salts (natural compounds that have been used previously to dissolve gallstones) to regress atherosclerotic plaques (atheromas) via a process called delipidization, which dissolves plaque in artery walls and removes it by natural body processes.
AHRO-001 to Reverse Plaque Deposits (Unclogging Arteries)
The Company's most advanced compound, AHRO-001, is being developed as a breakthrough regression treatment of atherosclerotic plaque. Using a unique approach, AHRO-001 is intended to dissolve existing atherosclerotic plaques as well as prevent the formation of new ones. The Company seeks to market its product against currently approved therapies, which merely stabilize the disease. It is this potential for plaque regression that AtheroNova believes could distinguish AHRO-001 from other atherosclerosis treatments on the market and candidates in development.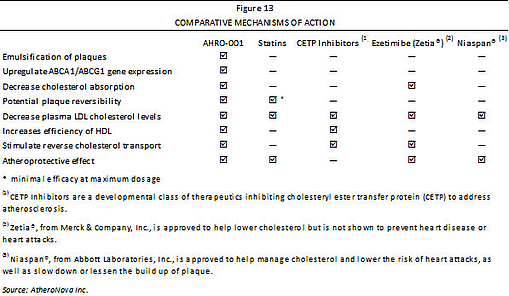 Atherosclerosis is the primary cause of many cardiovascular diseases, including heart attack, stroke, and peripheral artery disease (PAD), with more money spent attempting to treat cardiovascular disease than any other disease or ailment. The condition is so prevalent that cardiovascular disease is the leading cause of morbidity, disability, and mortality in industrialized countries, with atherosclerosis being the primary fundamental pathology.
AtheroNova further seeks to employ its intellectual property in the development of multiple pharmaceutical-grade applications for its compounds, targeting obesity, hypertension, diabetes, PAD, localized transdermal fat dissolution, and the dissolutions of lipomas.