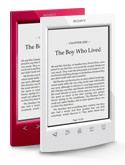 Neonode Inc. (NEON-NASDAQ) announced this morning that Sony's latest eReader, the PRS-T2 (shown to the right), incorporates Neonode's breakthrough Multi Sense technology. Multi Sense is an enhanced optical 3D multi-touch technology that Neonode first debuted earlier this year at the Mobile World Congress 2012 in Barcelona, Spain. It was originally estimated that products incorporating Multi Sense would not reach the market until 2013, though the PRS-T2 eReader is now available for sale on Sony's website and from major retailers.
What is Multi Sense?
Neonode's MultiSensing technology was introduced as an addition to the Company's technology portfolio as a way to enhance standard multi-touch processes. The technology is built upon Neonode's zForce® multi-touch platform and uses light rather than physical touch sensors to identify and track finger movements. It senses multiple dimensions: proximity, pressure, depth, and surface. By layering several optical sensors into the body of a Multi Sense touch frame, Neonode gives the touch frame the ability to follow the motion of multiple objects (e.g., two fingers) in 3D space. Keeping in line with the proprietary characteristics of zForce®, Multi Sense can detect hands, bare fingers, gloved fingers, pens, brushes, styluses, or other objects at high speed with virtually zero latency. The technology is applicable to a wide range of devices, including smartphones, tablets, automotive controls, and in-flight infotainment systems in addition to eReaders.
What does MultiSensing Technology add to the Sony eReader?
The launch of Sony's latest eReader marks the third generation of Sony products that have used Neonode technology. The six-inch PRS-T2 with Multi Sense offers the following display features:
A high resolution, glare-free touchscreen optimized for easy reading in any type of lighting condition, including direct sunlight;

Any object touch support, including stylus, finger/gloved finger, or an ordinary pen;

Gestures input for seamless page turns and multi-touch for smooth zooming in and out, allowing user-friendly navigation with smooth page transitions and less flickering; and

Ultra-low power consumption, allowing for up to two months' worth of reading on a single charge.
The PRS-T2 retails for around $130 on Sony's website. For more information on Neonode and its innovative touch technologies, please refer to the 52-page Executive Informational Overview on the Company, which is available for download at www.crystalra.com.