Last week, Jeff Kraws sat down with Rhonda Schaffler at Reuters to discuss opportunities and trends in the biotech space. Mr. Kraws is a veteran Wall Street sell-side analyst with more than 20 years of experience and is also cofounder and CEO of Crystal Research Associates. If you enjoyed the short clip of this interview released earlier this week, the full segment (available below) goes into more detail on individual biotech stocks and the events every investor should be watching out for.
The following stocks are spotlighted over the course of the interview:
* Gilead Sciences Inc. (GILD-NASDAQ) * Isis Pharmaceuticals, Inc. (ISIS-NASDAQ) * Intrexon Corporation (XON-NYSE) * Unilife Corporation (UNIS-NASDAQ) * MetaStat, Inc. (MTST-OTC) * AtheroNova Inc. (AHRO-OTC) *
Note: Click the image below to view the full video on Reuters Insider (6:29)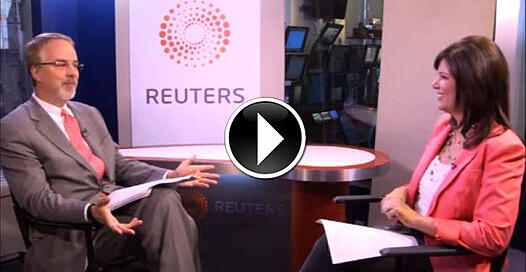 Jeff Kraws talks biotech with Reuters' Rhonda Schaffler
For those looking to invest in the biotech sector, Jeff Kraws identifies several key elements to look for before making an investment:
companies with differentiated technologies that could have a meaningful impact on society, such as by reducing medical costs

companies that can offer an advantage over an existing treatment in a therapeutic area

companies that could be acquisition targets for large-cap pharma companies seeking to bolster their pipelines
The biotech industry as a whole has experienced rapid growth in recent years. Since facing a difficult year in 2009, the Biotech Index (BTK) was up nearly 300% as of July 2013, even outperforming the S&P 500, which was up 150% (Source: CNBC). Furthermore, the market is experiencing a rise in M&A activity with 17 deals announced in the second quarter 2013, a 55% increase over the first quarter 2013 (Source: Irving Levin Associates).
There has also been a surge in biotech IPOs. In 2013, 27 biotech companies have gone public since January, collectively raising nearly $1.9 billion (Source: Forbes). This is a dramatic increase from 2012, which saw a total of 11 biotech IPOs. Most recently, Intrexon Corporation (XON-NYSE) went public on August 8, 2013, when it raised approximately $160 million and experienced a one-day stock gain of 55%.
For more information, follow us on Twitter @CrystalResearch or LinkedIn.