This morning, we published a 48-page Executive Informational Overview (EIO) on WordLogic Corp., a development-stage technology company creating advanced methods of text and information entry for smartphones, computers, tablets, and other products with touchscreens, keypads, and keyboards. The report is available free of charge on our website, as well as through a number of other venues, such as Capital IQ, Reuters, and Yahoo! Finance. This EIO details WordLogic's business strategies, novel technology platform, target markets, financial position, and competition, among other key factors relevant to evaluating an investment decision in the Company.
Leveraging its technological competencies, the Company (www.wordlogic.com) created the WordLogic™ Predictive Keyboard, which is a patented, universal Intelligent Input Platform™ for Windows®-based electronic devices. As illustrated below, WordLogic's technology provides a text entry system that makes typing suggestions based on built-in dictionaries, which can be customized for personal or enterprise use. The software adapts to the individual by learning frequently inputted text, including phrases, names, emails, and phone numbers.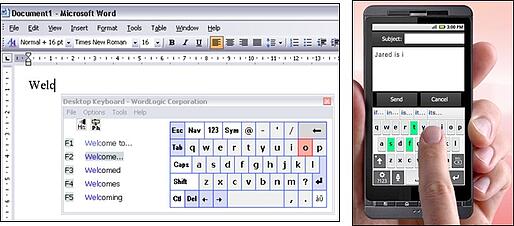 WordLogic is also capable of rapidly accessing Internet databases, allowing the user to highlight a word or phrase as it is typed and automatically initiating a search online. Designed to benefit both novice and experienced computer users, the WordLogic™ Predictive Keyboard can be adapted for use as a typing software, an assistive technology, a research tool, and an aid in language learning, among other functions. In addition to consumer sales, the Company is pursuing negotiations for its software platform with original equipment manufacturers (OEMs), Tier 1 wireless operators, operating system providers, and infotainment suppliers.
Please visit our website for greater information on WordLogic, and to access downloadable PDFs of the report.