This morning, we at Crystal Research debuted a new Research Library webpage. The new page is designed to be easier to navigate and encompasses several new search tools. In addition to viewing an A to Z listing of companies under our coverage, readers can now sort by date, industry, and exchange. We have also created dedicated pages for each company listed in our portfolio. These pages present a brief overview of each firm and include all research that we have published on that firm, as well as recent press releases, stock charts, and key financials (via feeds from Yahoo! Finance).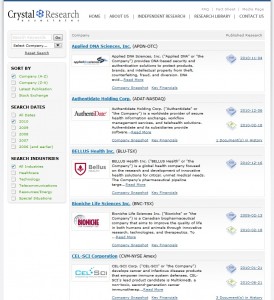 We will also now be including professionally produced, viral investor videos published by InvestorTube about the subject firm. InvestorTube is a new venture spearheaded by top-ranked investor relations consultancy, KCSA Strategic Communications, and Crystal Research Associates to offer public and private companies the ability to tell their corporate stories or announce important news via television quality produced video interviews delivered online.
Come visit the revamped site and peruse our recent research on companies like BELLUS Health (BLU-TSX), Authentidate (ADAT-NASDAQ), and Applied DNA (APDN-OTC). Our reports are complimentary to the public and present objective analysis of a company's operating structure, products, markets, management, competitive landscape, and more. Our research is intended to allow readers to make an informed decision about a company and its investment potential.