New Research Released on Celsion Corporation (CLSN-NASDAQ)
An Executive Informational Overview (EIO) is now available on Celsion Corporation, a fully integrated biopharmaceutical company focused on developing cancer therapies for difficult-to-treat forms of cancers. The 68-page report details the Company's business, its strategy, market opportunities, strategic relationships, competition, financials, risks, and more. It is available for download below.
Snapshot of Celsion Corporation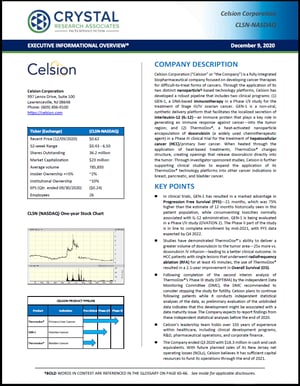 Celsion Corporation ("Celsion" or "the Company") is a fully integrated biopharmaceutical company focused on developing cancer therapies for difficult-to-treat forms of cancers. Through the application of its two distinct nanoparticle-based technology platforms, Celsion has developed a robust pipeline that includes two clinical programs: (1) GEN-1, a DNA-based immunotherapy in a Phase I/II study for the treatment of Stage III/IV ovarian cancer. GEN-1 is a non-viral, synthetic delivery platform that facilitates the localized secretion of interleukin-12 (IL-12)—an immune protein that plays a key role in generating an immune response against cancer—into the tumor region; and (2) ThermoDox®, a heat-activated nanoparticle encapsulation of doxorubicin (a widely used chemotherapeutic agent) in a Phase III clinical trial for the treatment of hepatocellular cancer (HCC)/primary liver cancer. When heated through the application of heat-based treatments, ThermoDox® changes structure, creating openings that release doxorubicin directly into the tumor. Through investigator sponsored studies, Celsion is further supporting clinical studies to expand the application of its ThermoDox® technology platforms into other cancer indications in breast, pancreatic, and bladder cancer.
.
Key Points of Celsion Corporation
In clinical trials, GEN-1 has resulted in a marked advantage in Progression Free Survival (PFS)—21 months, which was 75% higher than the estimate of 12 months historically seen in this patient population, while circumventing toxicities normally associated with IL-12 administration. GEN-1 is being evaluated in a Phase I/II study (OVATION 2). The Phase II part of the study is in line to complete enrollment by mid-2021, with PFS data expected by Q4 2022.
Studies have demonstrated ThermoDox®'s ability to deliver a greater volume of doxorubicin to the tumor area—25x more vs. doxorubicin IV infusion—leading to a better clinical outcome. In HCC patients with single lesions that underwent radiofrequency ablation (RFA) for at least 45 minutes, the use of ThermoDox® resulted in a 2.1-year improvement in Overall Survival (OS).
Following completion of the second interim analysis of ThermoDox®'s Phase III study (OPTIMA) by the independent Data Monitoring Committee (DMC), the DMC recommended to consider stopping the study for futility. Celsion plans to continue following patients while it conducts independent statistical analyses of the data, as preliminary evaluation of the unblinded data indicates that this development might be associated with a data maturity issue. The Company expects to report findings from these independent statistical analyses before the end of 2020.
Celsion's leadership team holds over 150 years of experience within healthcare, including clinical development programs, R&D, pharmaceutical operations, and corporate finance.
The Company ended Q3 2020 with $18.3 million in cash and cash equivalents. With future planned sales of its New Jersey net operating losses (NOLs), Celsion believes it has sufficient capital resources to fund its operations through the end of 2021.
*******************************************
Visit our Corporate Profile and Investment Highlights pages
for the latest research on Celsion Corporation
*******************************************