Specialty biopharmaceutical company Aeterna Zentaris Inc. (AEZS-NASDAQ; AEZ-TSX) held a conference call and webcast this morning to discuss its first quarter 2016 financial and operating results. A link to a replay of the full webcast is available here.
Aeterna co-promotes three commercial products in multiple U.S. markets: (1) EMD Serono's Saizen® [somatropin (rDNA origin) for injection] for growth hormone deficiencies; (2) Armune BioScience's APIFINY®, a non-PSA blood test for evaluating prostate cancer risk; and (3) Ascend Therapeutics' EstroGel® (estradiol gel), a non-patch estrogen replacement therapy. Revenue from sales of these products helps to offset development costs for Aeterna's own pipeline of product candidates, including Zoptrex™ for endometrial cancer and Macrilen™ for Adult Growth Hormone Deficiency (AGHD).
Both Zoptrex™ and Macrilen™ are in pivotal Phase 3 trials expected to be completed by the end of the third quarter 2016, with top-line results expected by year-end 2016. Aeterna aims to submit a New Drug Application (NDA) for each of these candidates in 2017.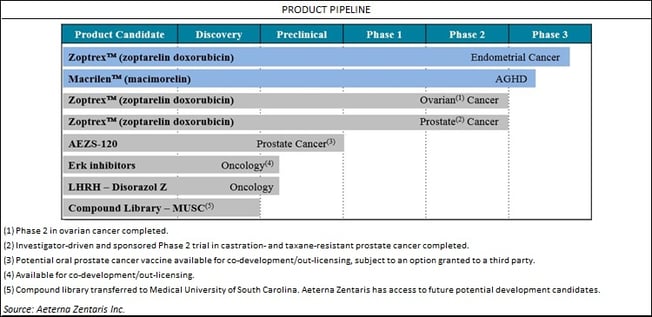 Zoptrex™ for Endometrial Cancer
Aeterna's most advanced wholly owned product candidate, Zoptrex™ [zoptarelin doxorubicin (doxorubicin peptide conjugate targeting LHRH receptor–expressing tumors)], is in a fully enrolled Phase 3 trial in advanced, recurrent, or metastatic endometrial cancer—a disease for which patients typically have a poor prognosis and there is no approved systemic therapy. Based on favorable interim trial data, an independent Data and Safety Monitoring Board has recommended twice (after April 2015 and October 2015 pre-specified points for interim analysis on safety and efficacy) that the Zoptrex™ Phase 3 trial in advanced endometrial cancers continue to full completion as planned.
As the first intravenous drug in a clinical study to direct a chemotherapy agent specifically to luteinizing hormone-releasing hormone (LHRH)-receptor expressing tumors, Zoptrex™ is believed to lead to a more targeted treatment with less damage to healthy tissue and reduced side effects. Its most advanced indication is for advanced, recurrent, or metastatic endometrial cancer (noting that endometrial cancer is the most common of the gynecologic malignancies and was estimated to affect 1 in 37 women during 2015). If Zoptrex™ is approved for its first indication, Aeterna intends to develop the compound for other tumors also expressing the LHRH-receptor, such as ovarian, prostate, and possibly additional cancer indications as part of the product's lifecycle management program. A Phase 2 trial in ovarian cancer has been successfully completed and published, while an investigator-initiated Phase 2 trial in prostate cancer has also recently met its primary endpoint.
Patients with advanced and recurrent endometrial cancer typical have a poor prognosis. There is no known or approved systemic therapy (except in Germany) for advanced (Stages III or IV) and recurrent metastatic endometrial cancer. If approved, Zoptrex™ could become the first FDA-approved therapy for late-stage patients, who are largely concentrated at the nation's major cancer treatment centers (e.g., Memorial Sloan Kettering, MD Anderson, and so on). Aeterna stated on its conference call an intention to target this market with approximately 30 sales representatives, and has noted an increased interest from third parties for geographic rights to Zoptrex™ as the culmination of the development program inches closer. For one, Sinopharm A-Think Pharmaceuticals Co., Ltd., which is affiliated with the largest state-owned pharmaceutical company in the People's Republic of China (China National Pharmaceutical Group Corp.), is expected to commence a clinical study for Zoptrex™ in China during the latter half of 2016.
Aeterna further touched on the importance of developing relationships with key opinion leaders (KOLs) in its target oncology, gynecologic oncology, and endocrinology (for Macrilen™, described below) markets, and states that it has initiated a process of developing such relationships. Both clinical programs have leading physicians and researchers closely involved in the product candidates' studies, including a notable (but unnamed as of yet) KOL in endometrial cancer therapy and key endocrinologists with expertise in pituitary disorders.
Macrilen™ for Adult Growth Hormone Deficiency (AGHD)
Aeterna's development program also includes Macrilen™ (macimorelin), which is in active enrollment for a Phase 3 confirmatory trial for AGHD. Macrilen™ is an orally active ghrelin agonist for use in evaluating AGHD. Importantly, there is not currently an FDA-approved diagnostic test for AGHD, creating an opportunity for Macrilen™ as potentially the only approved product in this area.
The current Phase 3 trial for Macrilen™ is a confirmatory, crossover study using an insulin tolerance test as the benchmark comparator. The trial includes a spectrum of patients, ranging from those who have a low risk of AGHD to those with a high risk of the condition, but all of whom have a medical history documenting risk factors for AGHD. The study began in November 2015 and is scheduled for completion in the third quarter 2016. As of the first quarter 2016, enrollment has commenced at approximately 20 of 30 anticipated sites, enrolling approximately 30 patients. The pace of recruitment is accelerating, and is scheduled to reach a minimum of 110 patients later this year. As the market for Macrilen™ is not as large as that for Zoptrex™, Aeterna expects to need only 20 to 25 sales representatives to promote this candidate.
Current Promotion Agreements for Commercial Compounds
Aeterna's co-promotion commission revenue has shown a favorable trend, according to the company's just-released quarterly financials. Aeterna hold rights to the co-promotion of three products at present: Saizen®, APIFINY®, and EstroGel®. Aeterna reported favorable data for new-patient-starts for Saizen® that exceeded the baseline by over 66%, and represented an increase of 88% over the fourth quarter of 2015. Commission from Saizen® represented the bulk of the company's first quarter commission revenue: approximately $155,000 of a total $181,000 received in sales commission revenue. The balance of revenue came from sales of APIFINY®, the only cancer-specific, non-PSA blood test for the evaluation of the risk of prostate cancer. Aeterna's sales force has only been promoting APIFINY® since February 2016; thus, revenue for this product does not yet represent a full quarter. The initial agreement with Armune BioScience, Inc. was for co-marketing of APIFINY® by Aeterna in 20 U.S. sales territories, which has since been expanded to be an exclusive promotion agreement throughout the U.S. effective June 1. Aeterna is promoting APIFINY® to designated medical professionals in exchange for a commission for each test performed resulting from its targeted promotion. Importantly, the commission structure for APIFINY® does not have a baseline like the other product agreements so Aeterna is compensated for every test sold.
The future of EstroGel® as a component of Aeterna's sales matrix is uncertain, however. The market for EstroGel® has lessened due to factors outside of Aeterna's control, including an overall downward trend in estrogen-replacement-therapy prescriptions. On its webcast, the company reported that its sales team achieved their target promotion metrics for the products (metrics like average sales calls per day and average sample-to-prescription ratio) but the unit volume of product sold did not exceed the baseline called for in the promotion agreement and thus earned no commission. Aeterna is currently evaluating whether it could be more productive by consolidating its sales resources to only Saizen® and APIFINY® (noting that the company continues to pursue the acquisition, in-license, or co-promotion of additional competitive commercial compounds).
For the first quarter 2016, Aeterna reported $242,000 in sales commissions and license fees.
Financial Highlights
Over the past two years, Aeterna has worked to improve its capital structure (which included conducting a 100-to-1 share consolidation in November 2015) and restructure its organization—a move that has led the Company to achieve a savings of roughly $2.5 million in annual research and development (R&D) and general and administrative (G&A) expenses. Corporate restructuring emphasized efforts to streamline R&D activities and increase commercial operations and flexibility through staff reductions, closing the company's Quebec City office in Canada during 2015, and continuing a corporate-wide Resource Optimization Program implemented in 2014/2015. Aeterna has emerged a leaner, more flexible organization poised to complete Phase 3 clinical development of its two lead product candidates this year with an expected average monthly operating burn rate of approximately $2.8 million during the remainder of 2016.
First Quarter 2016
Aeterna reported a decrease in R&D costs for the first quarter 2016 versus the first quarter 2015 that was mainly due to lower comparative third-party costs stemming from fewer patients in active treatment in the company's clinical trials (which are scheduled to complete in the near term) as well as the realization of cost savings in connection with efforts to streamline R&D activities. R&D costs were $3.7 million in the current quarter versus $4.5 million in the year-ago period.
G&A expenses were $1.9 million for the first quarter 2016 versus $3.4 million for the same period in 2015. Selling expenses in the first quarter 2016 were essentially unchanged from the comparable quarter in 2015.
Aeterna reported a decrease in net loss for the period due to lower operating expenses and higher comparative net finance income. Net loss in the first quarter 2016 was $3.7 million, or ($0.37) per basic and diluted share, versus a net loss of $9.7 million, or ($13.59) per basic and diluted share, for the same period in 2015.
The company ended the quarter with cash and cash equivalents of approximately $33 million versus $41.5 million as at December 31, 2015.
Click here to view the complete release.
*******************************************
information, including the latest research and headlines,
on Aeterna Zentaris Inc. (AEZS-NASDAQ; AEZ-TSX).
*******************************************