An Executive Informational Overview (EIO) is now available on FSD Pharma Inc., a biopharmaceutical company focused on developing innovative therapies for brain and inflammatory disorders to improve patient quality of life. The 58-page report details the Company's business, its strategy, market opportunities, strategic relationships, competition, financials, risks, and more. It is available for download below.
Snapshot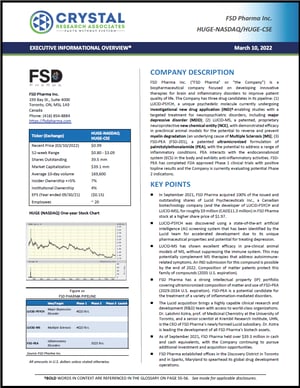 FSD Pharma Inc. ("FSD Pharma" or "the Company") is a biopharmaceutical company focused on developing innovative therapies for brain and inflammatory disorders to improve patient quality of life.
The Company has three drug candidates in its pipeline: (1) LUCID-PSYCH, a unique psychedelic molecule currently undergoing Investigational New Drug Application (IND)-enabling studies with a targeted treatment for neuropsychiatric disorders, including major depressive disorder (MDD); (2) LUCID-MS, a patented, proprietary neuroprotective new chemical entity (NCE), with demonstrated efficacy in preclinical animal models for the potential to reverse and prevent myelin degradation (an underlying cause of Multiple Sclerosis [MS]; (3) FSD-PEA (FSD-201), a patented ultramicronized formulation of palmitolylethonalamide (PEA), with the potential to address a range of inflammatory conditions. PEA interacts with the endocannabinoid system (ECS) in the body and exhibits anti-inflammatory activities. FSD-PEA has completed FDA approved Phase 1 clinical trials with positive topline results and the Company is currently evaluating potential Phase 2 indications.
Key Points of FSD Pharma Inc.
In September 2021, FSD Pharma acquired 100% of the issued and outstanding shares of Lucid Psycheceuticals Inc., a Canadian biotechnology company (and the developer of LUCID-PSYCH and LUCID-MS), for roughly $9 million (CAD$11.3 million) in FSD Pharma stock at a higher share price of $1.97.


LUCID-PSYCH was discovered using a state-of-the-art artificial intelligence (AI) screening system that has been identified by the Lucid team for accelerated development due to its unique pharmaceutical properties and potential for treating depression.


LUCID-MS has shown excellent efficacy in pre-clinical animal models of MS, without suppressing the immune system. This may potentially complement MS therapies that address autoimmune-related symptoms. An IND submission for this compound is possible by the end of 2022. Composition of matter patents protect this family of compounds (2035 U.S. expiration).


FSD Pharma has a strong intellectual property (IP) portfolio covering ultramicronized composition of matter and use of FSD-PEA (2029-2034 U.S. expiration). FSD-PEA is a potential candidate for the treatment of a variety of inflammation-mediated disorders.


The Lucid acquisition brings a highly capable clinical research and development (R&D) team with access to world-class organizations. Dr. Lakshmi Kotra, prof. of Medicinal Chemistry at the University of Toronto, and a senior scientist at Krembil Research Institute, UHN, is the CEO of FSD Pharma's newly formed Lucid subsidiary. Dr. Kotra is leading the development of all FSD Pharma's biotech assets.


As of September 2021, FSD Pharma held over $39.3 million in cash and cash equivalents, with the Company continuing to pursue additional investment and acquisition opportunities.
FSD Pharma established offices in the Discovery District in Toronto and in Sparks, Maryland to spearhead its global drug development operations.
*******************************************
Visit our Corporate Profile and Investment Highlights pages
for the latest research on FSD Pharma Inc.
*******************************************