An Executive Informational Overview (EIO) is now available on Genprex, Inc., a clinical-stage gene therapy company focused on developing life-changing treatments for patients with cancer and diabetes. The 62-page report details the Company's business, its strategy, market opportunities, strategic relationships, competition, financials, risks, and more. It is available for download below.
Snapshot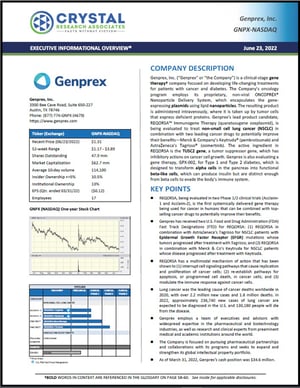 Genprex, Inc. ("Genprex" or "the Company") is a clinical-stage gene therapy company focused on developing life-changing treatments for patients with cancer and diabetes. The Company's oncology program employs its proprietary, non-viral ONCOPREX® Nanoparticle Delivery System, which encapsulates the gene-expressing plasmids using lipid nanoparticles. The resulting product is administered intravenously, where it is taken up by tumor cells that express deficient proteins. Genprex's lead product candidate, REQORSA™ Immunogene Therapy (quaratusugene ozeplasmid), is being evaluated to treat non-small cell lung cancer (NSCLC) in combination with two leading cancer drugs to potentially improve their benefits—Merck & Company's Keytruda® (pembrolizumab) and AstraZeneca's Tagrisso® (osimertinib). The active ingredient in REQORSA is the TUSC2 gene, a tumor suppressor gene, which has inhibitory actions on cancer cell growth. Genprex is also evaluating a gene therapy, GPX-002, for Type 1 and Type 2 diabetes, which is designed to transform alpha cells in the pancreas into functional beta-like cells, which can produce insulin but are distinct enough from beta cells to evade the body's immune system.
Key Points of Genprex, Inc.
REQORSA, being evaluated in two Phase 1/2 clinical trials (Acclaim-1 and Acclaim-2), is the first systemically delivered gene therapy being used for cancer in humans that can be combined with top-selling cancer drugs to potentially improve their benefits.




.

Genprex has received two U.S. Food and Drug Administration (FDA) Fast Track Designations (FTD) for REQORSA: (1) REQORSA in combination with AstraZeneca's Tagrisso for NSCLC patients with Epidermal Growth Factor Receptor (EFGR) mutations whose tumors progressed after treatment with Tagrisso; and (2) REQORSA in combination with Merck & Co's Keytruda for NSCLC patients whose disease progressed after treatment with Keytruda.




.

REQORSA has a multimodal mechanism of action that has been shown to (1) interrupt cell signaling pathways that cause replication and proliferation of cancer cells; (2) re-establish pathways for apoptosis, or programmed cell death, in cancer cells; and (3) modulate the immune response against cancer cells.


.

Lung cancer was the leading cause of cancer deaths worldwide in 2020, with over 2.2 million new cases and 1.8 million deaths. In 2022, approximately 236,740 new cases of lung cancer are expected to be diagnosed in the U.S. and 130,180 people will die from the disease.




.

Genprex employs a team of executives and advisors with widespread expertise in the pharmaceutical and biotechnology industries, as well as research and clinical experts from preeminent medical and academic institutions around the world.




.

The Company is focused on pursuing pharmaceutical partnerships and collaborations with its programs and seeks to expand and strengthen its global intellectual property portfolio.
As of March 31, 2022, Genprex's cash position was $34.6 million.
*******************************************
Visit our Corporate Profile and Investment Highlights pages
for the latest research on Genprex, Inc.
*******************************************