New Research on Hybrid Software Group (HYSG-Euronext Brussels)
An Executive Informational Overview (EIO) is now available on Hybrid Software Group PLC, a developer of software and hardware enterprise solutions for industrial inkjet printing. The 80-page report details the Company's business, its strategy, market opportunities, competition, financials, risks, and more. It is available for download below.
Snapshot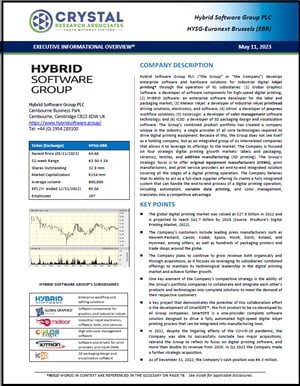 Hybrid Software Group PLC ("the Group" or "the Company") develops enterprise software and hardware solutions for industrial digital inkjet printing through the operation of its subsidiaries: (1) Global Graphics Software: a developer of software components for high-speed digital printing; (2) HYBRID Software: an enterprise software developer for the label and packaging market; (3) Meteor Inkjet: a developer of industrial inkjet printhead driving solutions, electronics, and software; (4) Xitron: a developer of prepress workflow solutions; (5) ColorLogic: a developer of color management software technology; and (6) iC3D: a developer of 3D packaging design and visualization software.
The Group's combined product portfolio has created a company unique in the industry: a single provider of all core technologies required to drive digital printing equipment. Because of this, the Group does not see itself as a holding company, but as an integrated group of six interrelated companies that allows it to leverage its offerings to the market.
The Company is focused on four strategic digital printing growth markets: labels and packaging, ceramics, textiles, and additive manufacturing (3D printing). The Group's strategic focus is to offer original equipment manufacturers (OEMs), print manufacturers, and print service providers an end-to-end integrated solution covering all the stages of a digital printing operation. The Company believes that its ability to act as a full-stack supplier offering its clients a fully integrated system that can handle the end-to-end process of a digital printing operation, including automation, variable data printing, and color management, translates into a competitive advantage.
Key Points of Hybrid Software Group PLC
The global digital printing market was valued at $27.6 billion in 2022 and is projected to reach $42.7 billion by 2028 (Source: Prodture's Digital Printing Market, 2022).


The Company's customers include leading press manufacturers such as Hewlett-Packard, Canon, Kodak, Epson, Ricoh, Durst, Roland, and Hymmen, among others, as well as hundreds of packaging printers and trade shops around the globe.


The Company plans to continue to grow revenue both organically and through acquisitions, as it focuses on leveraging its subsidiaries' combined offerings to maintain its technological leadership in the digital printing market and achieve further growth.


One key element of the Company's competitive strategy is the ability of the Group's portfolio companies to collaborate and integrate each other's products and technologies into complete solutions to meet the demand of their respective customers.


A key project that demonstrates the potential of this collaboration effort is the development of SmartDFE™, the first product to be co-developed by all Group companies. SmartDFE is a one-provider complete software solution designed to drive a fully automated high-speed digital inkjet printing process that can be integrated into manufacturing lines.


In 2021, despite the lingering effects of the COVID-19 pandemic, the Company was able to successfully conclude two major acquisitions, rebrand the Group to reflect its focus on digital printing software, and more than double its revenue from 2020. In Q1 2022 the Company made a further strategic acquisition.


As of December 31, 2022, the Company's cash position was €6.3 million.
*******************************************
Visit our Corporate Profile and Investment Highlights pages
for the latest research on Hybrid Software Group PLC
*******************************************