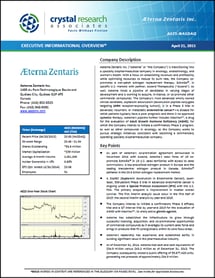 Crystal Research Associates has issued a comprehensive, 52-page Executive Informational Overview (EIO) on Aeterna Zentaris Inc. (AEZS-NASDAQ; AEZ-TSX).
Company Snapshot
Aeterna Zentaris ("Aeterna" or "the Company") is transitioning into a specialty biopharmaceutical company in oncology, endocrinology, and women's health. With a focus on establishing revenues and profitability while optimizing resources to reduce its burn rate, the Company co-promotes a non-patch estrogen replacement therapy, EstroGel®, in specific U.S. markets with partner, Ascend Therapeutics ("Ascend"). As well, Aeterna holds a pipeline of candidates in varying stages of development and is working to acquire, in-license, or co-promote other commercial compounds.
The Company's most advanced wholly owned clinical candidate, zoptarelin doxorubicin (doxorubicin peptide conjugate targeting LHRH receptor–expressing tumors), is in a Phase 3 trial in advanced, recurrent, or metastatic endometrial cancer—a disease for which patients typically have a poor prognosis and there is no approved systemic therapy. Aeterna's pipeline further includes Macrilen™, a drug for the evaluation of Adult Growth Hormone Deficiency (AGHD), for which the Company intends to initiate a confirmatory Phase 3 program, as well as other compounds in oncology, as the Company works to pursue strategic initiatives consistent with becoming a commercially operating specialty biopharmaceutical company.
Key Points
As part of Aeterna's co-promotion agreement announced in November 2014 with Ascend, Aeterna's sales force of 19 co-promote EstroGel® in 19 U.S. sales territories with access to sales commissions. A top-prescribed estrogen product in Europe and the leading transdermal estrogen product in Canada, EstroGel® partakes in the $3.6 billion estrogen replacement market.

A ZoptEC (Zoptarelin doxorubicin in Endometrial Cancer), open-label, 500-patient Phase 3 trial in advanced endometrial cancer is ongoing under a Special Protocol Assessment (SPA) with the U.S. FDA. The primary endpoint is improvement in median overall survival. The first interim analysis could occur in the first half of 2015; the second interim analysis by year-end 2015.

The Company intends to initiate a confirmatory Phase 3 efficacy trial and a QT interval trial by year-end 2015 for the evaluation of AGHD with Macrilen™, its orally active ghrelin agonist.

Aeterna has established the infrastructure to grow through successful licensing, acquisition, and co-promotional opportunities of commercial compounds as it leverages its current sales force and brings in products that fit synergistically within its core focus areas.

Aeterna's leadership has experience and established ability in building significant value in the pharmaceutical industry.

As of December 31, 2014, Aeterna had cash and cash equivalents of $34.9 million versus $43.2 million as of December 31, 2013. The Company subsequently closed a public offering of 59,677,420 units, generating net proceeds of approximately $34.5 million.
*******************************************
information, including the latest research and headlines,
on

Aeterna Zentaris Inc. (AEZS-NASDAQ; AEZ-TSX).
*******************************************