NEW RESEARCH: Quarterly Update Released on Aeterna Zentaris (AEZS)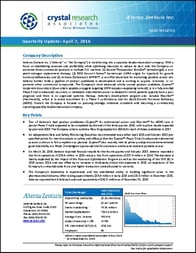 Crystal Research Associates has released a 16-page Quarterly Update on specialty biopharmaceutical company, Aeterna Zentaris Inc. (AEZS-NASDAQ; AEZ-TSX). The Update specifically details Aeterna's recent news and developments, recent and anticipated clinical trial milestones, and financial position.
Company Description
Aeterna is transitioning into a specialty biopharmaceutical company. With a focus on establishing revenues and profitability while optimizing resources to reduce its burn rate, the Company co-promotes three commercial products in multiple U.S. markets: (1) Ascend Therapeutics' EstroGel® (estradiol gel), a non-patch estrogen replacement therapy; (2) EMD Serono's Saizen® [somatropin (rDNA origin) for injection] for growth hormone deficiencies; and (3) Armune BioScience's APIFINY®, a non-PSA blood test for evaluating prostate cancer risk. Aeterna further holds a pipeline of product candidates in development and is working to acquire, in-license, or co-promote other commercial compounds. The Company's most advanced wholly owned product candidate, Zoptrex™ [zoptarelin doxorubicin (doxorubicin peptide conjugate targeting LHRH receptor–expressing tumors)], is in a fully enrolled Phase 3 trial in advanced, recurrent, or metastatic endometrial cancer—a disease for which patients typically have a poor prognosis and there is no approved systemic therapy. Aeterna's development program also includes Macrilen™ (macimorelin), which is in active enrollment for a Phase 3 confirmatory trial for Adult Growth Hormone Deficiency (AGHD). Overall, the Company is focused on pursuing strategic initiatives consistent with becoming a commercially operating specialty biopharmaceutical company.
Key Points from the Update
Two of Aeterna's lead product candidates—Zoptrex™ for endometrial cancer and Macrilen™ for AGHD—are in pivotal Phase 3 trials expected to be completed by the end of the third quarter 2016, with top-line results expected by year-end 2016. The Company aims to submit a New Drug Application (NDA) for each of these candidates in 2017.

An independent Data and Safety Monitoring Board has recommended twice (after April 2015 and October 2015 pre-specified points for interim analysis on safety and efficacy) that the Zoptrex™ Phase 3 trial in advanced endometrial cancers continue to full completion as planned. Zoptrex™ also recently met its primary endpoint and demonstrated good tolerability in a Phase 2 investigator-sponsored trial for castration- and taxane-resistant prostate cancer.

On March 29, 2016, Aeterna reported financial results for the fourth quarter and full-year 2015. Aeterna reported a loss from operations of $34.9 million in 2015 versus a loss from operations of $37.4 million in 2014. The decrease is mainly explained by the impact of the Resource Optimization Program as well as the weakening of the EUR (€) in 2015 versus 2014, and was offset by an increase in third-party clinical trial expenses in 2015, an expansion of the Company's contracted sales force, and higher transaction costs allocated to warrants.

The Company's leadership is experienced and has established ability in building significant value in the pharmaceutical industry. After raising approximately $34.4 million in early 2015 and $15.0 million in December 2015, Aeterna reported that it held cash and cash equivalents of $41.5 million as of December 31, 2015.
*******************************************
information, including the latest research and headlines,
on Aeterna Zentaris Inc. (AEZS-NASDAQ; AEZ-TSX).
*******************************************