Crystal Research Associates has issued a 9-page Quarterly Update on clinical-stage biotechnology company, Emmaus Life Sciences, Inc. (EMMA-OTCQX).
Snapshot of Emmaus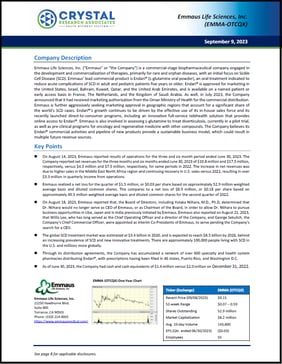 Emmaus Life Sciences, Inc. ("Emmaus" or "the Company") is a commercial-stage biopharmaceutical company engaged in the development and commercialization of therapies, primarily for rare and orphan diseases, with an initial focus on Sickle Cell Disease (SCD). Emmaus' lead commercial product is Endari® (L-glutamine oral powder), an oral treatment indicated to reduce acute complications of SCD in adult and pediatric patients five years or older. Endari® is approved for marketing in the United States, Israel, Bahrain, Kuwait, Qatar, and the United Arab Emirates, and is available on a named patient or early access basis in France, The Netherlands, and the Kingdom of Saudi Arabia. As well, in July 2023, the Company announced that it had received marketing authorization from the Oman Ministry of Health for the commercial distribution. Emmaus is further aggressively seeking marketing approval in geographic regions that account for a significant share of the world's SCD cases. Endari®'s growth continues to be driven by the effective use of its in-house sales force and its recently launched direct-to-consumer programs, including an innovative full-service telehealth solution that provides online access to Endari®. Emmaus is also involved in assessing L-glutamine to treat diverticulosis, currently in a pilot trial, as well as pre-clinical programs for oncology and regenerative medicine with other compounds. The Company believes its Endari® commercial activities and pipeline of new products provide a sustainable business model, which could result in multiple future revenue sources.
Key Points
On August 14, 2023, Emmaus reported results of operations for the three and six month period ended June 30, 2023. The Company reported net revenues for the three months and six months ended June 30, 2023 of $10.8 million and $17.5 million, respectively, versus $4.3 million and $7.5 million, respectively, for same periods in 2022. The increase in net revenues was due to higher sales in the Middle East North Africa region and continuing recovery in U.S. sales versus 2022, resulting in over $3.3 million in quarterly income from operations.


Emmaus realized a net loss for the quarter of $1.5 million, or $0.03 per share based on approximately 52.9 million weighted average basic and diluted common shares. This compares to a net loss of $8.9 million, or $0.18 per share based on approximately 49.3 million weighted average basic and diluted common shares for the second quarter of 2022.


On August 18, 2023, Emmaus reported that, the Board of Directors, including Yutaka Niihara, M.D., Ph.D, determined that Dr. Niihara would no longer serve as CEO of Emmaus, or as Chairman of the Board, in order to allow Dr. Niihara to pursue business opportunities in Ube, Japan and in India previously initiated by Emmaus. Emmaus also reported on August 21, 2023, that Willis Lee, who has long served as the Chief Operating Officer and a director of the Company, and George Sekulich, the Company's Chief Commercial Officer, were appointed as interim Co-Presidents of Emmaus, to serve pending the Company's search for a CEO.


The global SCD treatment market was estimated at $3.4 billion in 2020, and is expected to reach $8.5 billion by 2026, behind an increasing prevalence of SCD and new innovative treatments. There are approximately 100,000 people living with SCD in the U.S. and millions more globally.


Through its distribution agreements, the Company has accumulated a network of over 600 specialty and health system pharmacies distributing Endari®, with prescriptions having been filled in 46 states, Puerto Rico, and Washington D.C.


As of June 30, 2023, the Company had cash and cash equivalents of $1.4 million versus $2.0 million on December 31, 2022.
*******************************************
Visit our Corporate Profile and Key Points pages
for the latest research on Emmaus Life Sciences, Inc.
*******************************************