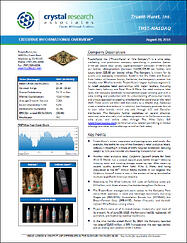 We recently issued a 72-page Executive Informational Overview® (EIO) on California winemaker Truett-Hurst, Inc. (THST-NASDAQ). The EIO details the Company's product lines, business model, growth strategies, market opportunities, future milestones, competitive landscape, financial position, business risks, and more. It is available for download on our website here. Our online summary of Truett-Hurst's five key competitive advantages in the beverage alcohol industry, specifically with regard to wine production and sales, is available at the Truett-Hurst Key Points page here.
About Truett-Hurst: Snapshot
Truett-Hurst, Inc. ("Truett-Hurst" or "the Company") is a wine sales, marketing, and production company specializing in premium (below $7.00 per bottle retail price), super-premium (between $7.00-$14.00 per bottle), ultra-premium (between $14.00-$25.00 per bottle), and luxury (over $25.00 per bottle) wines. The Company is known for its quality and packaging innovations. Based in the Dry Creek and Russian River Valleys of Sonoma County, California, the Company's product line includes over 30 wine brands. Truett-Hurst's largest business segment is its retail exclusive label partnerships with major retailers, including Trader Joe's, Safeway, and Total Wine & More. For retail exclusive label sales, the Company combines its competitive grape sourcing and skill in wine making and production with its understanding of consumer trends and unique approach to creating wine bottles that stand out on the retail shelf. These wines are then sold exclusively by a retailer (e.g., Safeway) under a retail exclusive brand. In addition, the Company produces four of its own wine brands, which are sold through U.S. and Canadian distributors. The Company further capitalizes on several direct-to-consumer sales channels, such as tasting rooms at its California wineries, wine clubs, and online sales through The Wine Spies, LLC (an Internet wine retailer specializing in limited offerings and other online offerings as well as flash sales).
Business Model
Retail Exclusive Wines
Truett-Hurst is focused on providing quality wine at a practical cost, in part, by circumventing a costly and competitive distribution system—with a goal of disrupting the current oligopoly system in place. The Company's grocery partners, in seeking to increase margin, have turned to retail exclusive label products to compete with larger, more commanding producers and suppliers. Via this "custom label" model, Truett-Hurst works with its retail partners to develop brands that target the discovery-oriented wine consumer, while retaining ownership of these brands to launch into broader markets following exclusivity periods. The Company's retail partners value their relationships with the Company as they collaborate in developing products and ultimately benefit from the higher margins. Partners benefit from the Company's rapid brand development cycles, its skill in adjusting to market demand, and its ability to bypass many traditional distribution layers to be able to offer higher-margin products to targeted customers.
A key benefit for Truett-Hurst in pursuing the retail exclusive label market is the innate advantage that retail exclusive label wines have over branded wines: unencumbered access to shelf space. The beverage alcohol industry is highly competitive with regard to shelf space at grocery, liquor, and convenience stores, among other retail outlets. However, by making custom wines specifically for sale under certain retailers' labels, Truett-Hurst's "retail exclusive" wines compete with other wine brands on the retailer's terms, which means these products frequently enjoy prominent shelf locations selected by the retailer working to promote its own labels.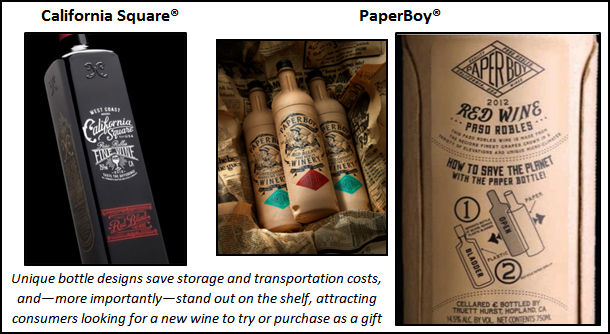 Direct to Consumer
Beyond its retail exclusive label channel, the Company markets its brands through direct-to-consumer and traditional distribution channels. The direct-to-consumer channel involves sales through Truett-Hurst's two tasting rooms and wine clubs, which strengthen brand visibility and customer loyalty. As well, the Company holds an ownership interest in The Wine Spies, an Internet wine retailer specializing in limited offerings and other online offerings, as well as "flash sale." The range of varietals sold includes Zinfandel, Chardonnay, Sauvignon Blanc, Pinot Noir, Petite Sirah, and other red blends. Through the more traditional route of distributor channels, Truett-Hurst distributes its wine under four fully-owned labels: Truett-Hurst, VML, Healdsburg Ranches, and Bradford Mountain. Greater details of the Company's traditional distribution system are on pages 35-37 of the EIO.
Other Report Highlights
Truett-Hurst's winery operations and packaging are ecofriendly. For example, the bottle for one of the Company's retail exclusive labels, Safeway's PaperBoy®, is made of 100% recycled cardboard, reducing weight by 34% and considerably lowering transportation costs.

Another retail exclusive label, California Square® (made for Total Wine & More), has a unique square glass bottle design—reducing shipping costs and creating storage space savings. After receiving several quality awards from Total Wine & More, and being showcased at the 65th Annual Emmy Awards in Los Angeles, the California Square® brand is now in the process of being launched at multiple large North American retailers.

According to The Wine Institute, U.S. sales of California wines are $23 billion, with three of every five bottles being from California.

The Truett-Hurst management team comes to the Company from senior-level positions in wine and beverage businesses, including Diageo plc (DEO-NYSE), Constellation Brands, Inc. (STZ-NYSE), the Brown-Forman Corp. (BFB-NYSE), Fetzer Vineyards, and Kendall-Jackson Wine Estates, among others.

Truett-Hurst owns all of its brand names, trademarks, and most of its artwork. As of June 30, 2013, the Company had 21 registered, 16 published, and 6 pending material trademarks.

In the nine months ended March 31, 2014, the Company reported nine-month net sales of $16.5 million, a 36% increase over the year-ago period, and an ending cash position of $5.1 million.
*******************************************
information, including the latest research and headlines,
on Truett-Hurst, Inc. (THST-NASDAQ).
*******************************************