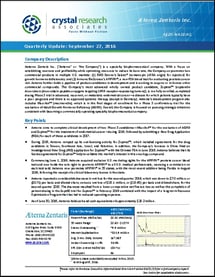 Crystal Research Associates has released a 16-page Quarterly Update on specialty biopharmaceutical company, Aeterna Zentaris Inc. (AEZS-NASDAQ; AEZ-TSX). The Update specifically details Aeterna's recent news and developments, recent and anticipated clinical trial and regulatory filing milestones, and financial position.
Company Description
Aeterna is a specialty biopharmaceutical company. With a focus on establishing revenues and profitability while optimizing resources to reduce its burn rate, the Company co-promotes two commercial products in multiple U.S. markets: (1) EMD Serono's Saizen® [somatropin (rDNA origin) for injection] for growth hormone deficiencies; and (2) Armune BioScience's APIFINY®, a non-PSA blood test for evaluating prostate cancer risk. Aeterna further holds a pipeline of product candidates in development and is working to acquire or in-license other commercial compounds. The Company's most advanced wholly owned product candidate, Zoptrex™ [zoptarelin doxorubicin (doxorubicin peptide conjugate targeting LHRH receptor–expressing tumors)], is in a fully enrolled, completed dosing Phase 3 trial in advanced, recurrent, or metastatic endometrial cancer—a disease for which patients typically have a poor prognosis and there is no approved systemic therapy (except in Germany). Aeterna's development program also includes Macrilen™ (macimorelin), which is in the final stages of enrollment for a Phase 3 confirmatory trial for the evaluation of Adult Growth Hormone Deficiency (AGHD). Overall, the Company is focused on pursuing strategic initiatives consistent with becoming a commercially operating specialty biopharmaceutical company.
Key Points from the Update
Aeterna aims to complete clinical development of two Phase 3 candidates—Macrilen™ for the evaluation of AGHD and Zoptrex™ for the treatment of endometrial cancer—during 2016, followed by submitting a New Drug Application (NDA) for each of these candidates in 2017.

During 2016, Aeterna ramped up its out-licensing activity for Zoptrex™, which included agreements for the drug candidate in Taiwan, Southeast Asia, Israel, and Palestine. In addition, the Company's licensee in China filed an Investigational New Drug (IND) application for Zoptrex™ with the Chinese FDA in June 2016. Aeterna believes that its license agreements for Zoptrex™ help to validate the market's interest in this oncology compound.

Commencing June 1, 2016, Aeterna acquired exclusive U.S. marketing rights for the APIFINY® prostate cancer blood test and now holds the sole right to promote APIFINY® to all U.S. medical professionals, receiving a commission on each test sold. Aeterna now promotes APIFINY® in 35 states, with the most recent addition being Florida in August 2016, following the receipt of a clinical laboratory license in the state.

Aeterna reported a considerable decrease in net loss for the second quarter 2016, which was down to $7.0 million, or ($0.71) per basic and diluted share, versus a net loss of $15.1 million, or ($13.65) per basic and diluted share, for the second quarter 2015. The decrease resulted from a lower comparative net finance loss as well as the completion of patient dosing in the ZoptEC trial for Zoptrex™ in February 2016 combined with the impact of a long-term Resource Optimization Program that has led to reduced operating expenses.

As of June 30, 2016, Aeterna held cash and cash equivalents of approximately $26.2 million.
*******************************************
information, including the latest research and headlines,
on Aeterna Zentaris Inc. (AEZS-NASDAQ; AEZ-TSX).
*******************************************