An Executive Informational Overview (EIO) is now available on StageZero Life Sciences, Ltd (SZLS-TSX), a revenue-generating innovator in the liquid biopsy space, dedicated to the early detection of cancer and multiple disease states. The 72-page report details the Company's business, its strategy, market opportunities, strategic relationships, competition, financials, risks, and more. It is available for download below.
Snapshot of StageZero Life Sciences, Ltd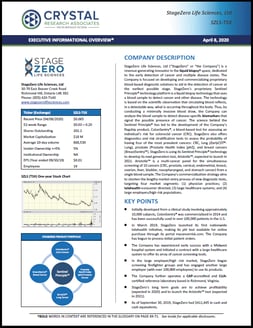 StageZero Life Sciences, Ltd is a revenue-generating innovator in the liquid biopsy space, dedicated to the early detection of cancer and multiple disease states. The Company is focused on developing and commercializing proprietary blood-based diagnostic solutions to aid in the detection of cancer at the earliest possible stage.
StageZero's proprietary Sentinel Principle® technology platform is a liquid biopsy technology that uses a blood sample to detect cancer and other disease. The technology is based on the scientific observation that circulating blood reflects, in a detectable way, what is occurring throughout the body. Thus, by conducting a minimally invasive blood draw, the Company can analyze the blood sample to detect disease-specific biomarkers that signal the possible presence of cancer.
The science behind the Sentinel Principle® has led to the development of the Company's flagship product, ColonSentry®, a blood-based test for assessing an individual's risk for colorectal cancer (CRC). StageZero also offers diagnostics and risk stratification tests to assess the probability of having four of the most prevalent cancers: CRC, lung (EarlyCDT®-Lung), prostate (Prostate Health Index [phi]), and breast cancers (BreastSentry™). StageZero is using its Sentinel Principle® technology to develop its next generation test, Aristotle™, expected to launch in 2021. Aristotle™ is a multi-cancer panel for the simultaneous screening of 10 cancers (CRC, prostate, cervical, endometrial, breast, ovarian, liver, bladder, nasopharyngeal, and stomach cancer) from a single blood sample.
The Company's commercialization strategy aims to shorten the lengthy market-entry process of new diagnostic tests, targeting four market segments: (1) physician practices; (2) telehealth–consumer directed; (3) large healthcare systems; and (4) large employers/high risk populations.
Key Points
Initially developed from a clinical study involving approximately 10,000 subjects, ColonSentry® was commercialized in 2014 and has been successfully used in over 100,000 patients in the U.S.
In March 2019, StageZero launched its first nationwide telehealth initiative, making its phi test available for online purchase through its portal www.mycancerrisk.

com

. The Company has begun to process initial patient orders.
The Company has experienced early success with a Midwest hospital system and initiated a contract with a large healthcare system to offer its array of cancer screening tools.
In the large employer/high risk market, StageZero began screening firefighter groups and has engaged another large employer (with over 100,000 employees) to use its products.
The Company further operates a CAP-accredited and CLIA-certified reference laboratory based in Richmond, Virginia.
StageZero's long term goals are to achieve profitability (expected in 2020) and to launch the Aristotle™ test (expected in 2021).
As of September 30, 2019, StageZero had $411,445 in cash and cash equivalents.
*******************************************
Visit our Corporate Profile and Key Investment Highlights pages
for the latest research on StageZero Life Sciences, Ltd
*******************************************